Help Us Change Ben's Life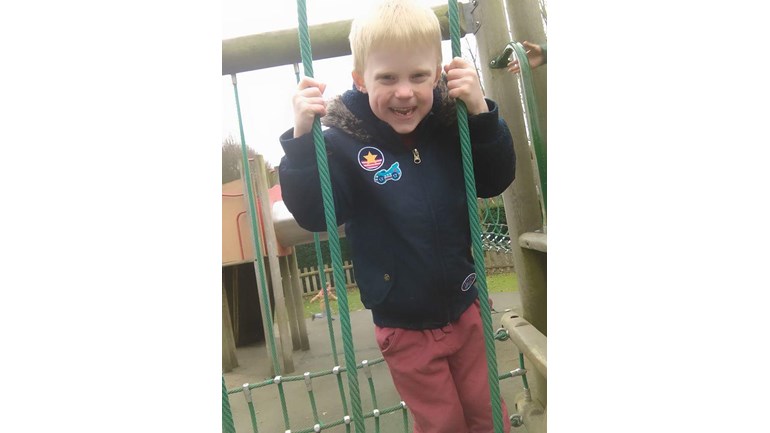 Thanks for taking the time to visit my JustGiving page.
As many of you know Ben was born 10 weeks early. He had a bleed in his brain and as a result he has cerebral palsy. 
What you may not know is that although Ben tries hard to keep up with friends and join in the normal childhood activities, having cerebral palsy makes this a struggle. 
Ben has to wear splints through the day and at night in bed. The day ones often cause blisters. He takes medicine three times a day everyday to try to relax his tight muscles and has also had painful botox injections. He has to endure painful stretches everyday to keep the range of movement he has. He experiences pain every day, not just in his legs but his hips and back also hurt because of the constant pressure of very tight muscles. This pain often wakes him up at night. Ben has a wheelchair but he will only use it as a last resort. He would rather battle on than admit defeat.....that or get on Dad's shoulders! Poor Dad! Despite all this he rarely complains and his happy determination and strength have inspired us every single day since he was born.

The good news is he can have a life changing operation called a selective dorsal rhizotomy. This involves cutting some of the nerves in Ben's spine to stop the tightness. This will improve and potentially get rid of all the things that make Ben's life a struggle. Without this operation the sad fact is that no matter how hard we work to maintain Ben's movement, things will get worse for Ben in terms of quality of life, mobility and pain. 
The bad news is that the operation and the subsequent therapy are not currently funded by the NHS and we have to pay for it. It costs a lot of money!
You can help us change Ben's life (and save Dad's shoulders) by helping our fundraising. Anything you can give or do to help us will be tremendously appreciated. We are fundraising with the support of tree of hope which means we can claim gift aid and that they make sure we use the money as intended! If you have any questions please feel free to ask. 
Thank you. 
7.5% of all donations to Tree of Hope in relation to this appeal will be allocated to the general charitable purposes of Tree of Hope to cover our core operating costs.

If we raise insufficient funds, or surplus funds, then the funds will be used, if appropriate, to fund support for our child's needs in accordance with Tree of Hope's charitable objects.  If in those circumstances we are unable to use all or part of the funds for the benefit of our child in accordance with Tree of Hope's charitable objects, then any funds that cannot be used will be transferred to be used for the general charitable purposes of Tree of Hope.

Donating through JustGiving is simple, fast and totally secure. Your details are safe with JustGiving - they'll never sell them on or send unwanted emails. Once you donate, they'll send your money directly to the charity. So it's the most efficient way to donate - saving time and cutting costs for the charity.