Bella's Trust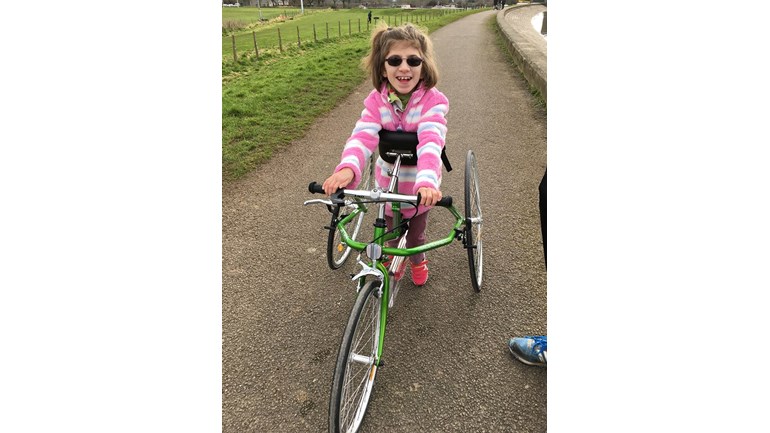 Hello my name is Gabriella, known by my friends and family as Bella. I am a happy eleven year old girl with an infectious smile... Unfortunately I have spastic quadriplegic cerebral palsy caused through a very rare  gene mutation. 
Please give through Tree of Hope who are helping me fundraise to continue with private therapies like physio and hydrotherapy and any essential equipment I might need which will help me improve my physical development, enjoyment and achieve my full potential.
Bella was born on 4th February 2008 and within a few months it was apparent something was not quite right, after several investigations Bella's parents received the devastating news that she had cerebral palsy. The prognosis for Bella's future was not good and this was, and still is, very hard to come to terms with. 
Bella needs 24 hour care and supervision as well as specialist equipment and therapy to move her about and despite the challenges that face her on a daily basis she remains a ray of sunshine in the lives of all those that know her. Bella cannot walk and relies on regular medication to prevent seizures as she also suffers from epilepsy.
Bella adores her two brothers as well as the rest of her family, especially her little cousins who make her giggle uncontrollably! One of her favourite things to do is spend family time   splashing in her lazy spa hot tub which is also really good for keeping her muscles relaxed. She also enjoys going out in her bike trailer. 
Bella loves food and whenever anyone asks who's hungry she shouts " I do"!! This is music to the ears as Bella's communication is limited. The messier the food is the better and Bella really loves ice cream, chocolate lollies and fruit kebabs because she can feed these to herself.
Bella goes to school, defying all the odds and particularly loves painting and has a wicked sense of humour often making the whole class erupt into laughter. Bella is a real inspiration and truly touches the lives of all of those she meets.
Bella deserves the best chance we can give her to get as much independence, normality and quality of life as we can achieve and physiotherapy and hydrotherapy is helping us towards those goals along with Specialized equipment for her enjoyment which gives her the same independence as other children.
Thankyou so much for reading gabriella's story and we are truly grateful for any support you may be able to offer or if you feel you may like to help with improving gabriella's future whilst taking part in your own fund raising event or activity. 
Bella and family x

An update on Bella's next steps.....      
 Bella's parents attended a Tree of Hope conference about Selective dorsal rhizotomy. SDR is a major operation for those with cerebral palsy with the aim to reduce spasticity and pain by cutting nerve fibres in the spinal cord. As with many children with CP Bella suffers from muscle spasticity, this means that Bella's muscles shorten and become tight making movement of her limbs difficult. 
Unfortunately we learnt that Bella's cerebral palsy is so severe that she doesn't qualify for this operation. This has been a real blow for us as a family but onwards and upwards ...
The next step for Bella is a further operation to cut the tendons behind her knees and inject Botox in her legs to reduce the spasticity enough to help her lengthen her legs and walk better in her walker but not reduce it so much that she loses her current walking ability. This is another complex operation with a long recovery which means pain and discomfort for Bella and heartache for her family and friends. 
The one thing that has massively helped Bella is stretching in a hydro pool. The warm water relaxes her and allows us to stretch her and exercise in a way that we can't do normally and this along with her regular physio is continually making her stronger. 
We so appreciate everyone's support and would like to continue our fundraising efforts for Bella's essential physio but also start to raise money towards purchasing our own hydro pool that means Bella can stretch and exercise in the therapeutic water every day. The hydro therapy will maintain her muscles before the operation and be fundamental in her rehabilitation following her operation as will the physio and of course Bella would benefit from physio in the hydro pool making it even more effective.
Thankyou all for your kindness and support.
Love Bella and family 💕