Believing in Brooke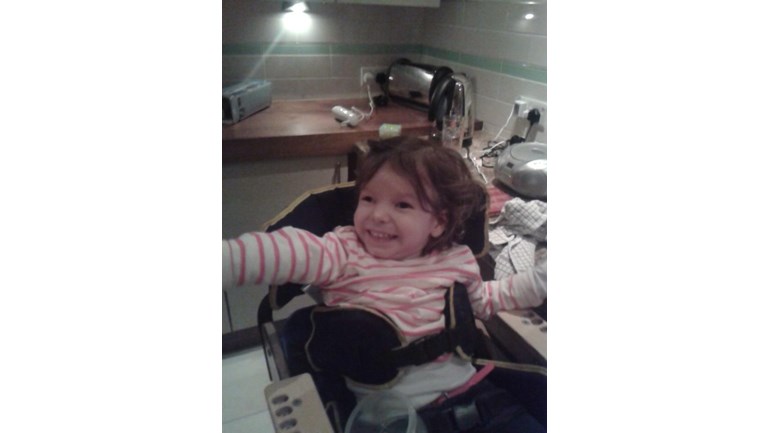 Hi everyone, my name is Brooke from Co. Down in Northern Ireland. I was born a healthy 7lb 10oz baby or so they thought. However, by the time I was four months I had my first major seizure. You can imagine how my parents dealt with that - let's just say there was a lot of panicking!
I was admitted straight to the Ulster Hospital, Dundonald and spent the next 3 days going between Royal Children's Hospital and the City Hospital having an MRI and EEG. On the 3rd day my parents were taken into an office and told the worse news ever. I had Lissencephaly, a very very rare condition, and I had 4 months to 2 years to live. I proved them wrong big time! I'm now 3 and a half and looking forward to being 4.
Lissencephaly means 'smooth brain'. When our brain tells our body to do something it send signals through pathways but my brain doesn't have these causing me to have lots of seizures. These are very hard to control with drugs, so I'm on a lot of horrible medicines morning and night. The first half of my life was spent in hospital with the odd couple of days at home. Most of the time I slept as I was on so much medication to stop the seizures until finally the right mix of drugs started to help me control them. The doctors said they would never be able to control my seizures but miracles happen.
I have developmental delay, so I can't walk or talk but have tried so hard this year to sit-up from a laying position by myself and guess what I've done it! I have to wear a Lycra suit and leg splits to help hold my ankles in place for when daddy holds me up to stand. Mummy has found this specialist therapy centre and we've been to see the therapist who say they will be able to help. I know if I get this intense therapy it will help me to walk I'm so determined to do it.
Now the fun stuff! I love music and being sang too, watching'Tree Fu Tom' cartoons and swimming at the hospice, oh and bubbles!
The funds raised will go to Tree of Hope to assist other sick children if we exceed the target amount or if we do not raise enough funds, or if they cannot be used for any other reason.
Please help me get this therapy as I know it will let me walk beside my big bro someday!