Baby Kylers Head Helmet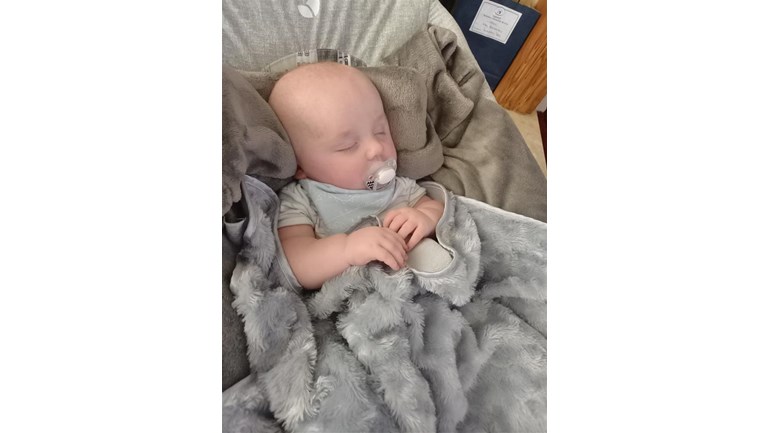 Thanks for taking the time to visit my JustGiving page.
I am Kylers Mummy
We are on a journey to try and raise enough money to give Kyler the best quality of life that he deserves. He has been diagnosed with a head condition called Plagiocephaly and in order to get his head to the right shape he will need a head helmet to do so. Kyler is now 6 months old and is always laying in the same way facing the left side which has made it really difficult for me to encourage him to sleep in different positions.
I am part time worker as well as a full time mummy. Every mum wants the best for their child and when your on a low income and the only way to meet their needs is if I had enough money, this makes me extremely frustrated as well as feeling helpless. 
When I was pregnant I wasnt very big and this ment that my baby boy didn't have enough room to stretch so he was in the same position causing him to remain that way when he was born. I have tried everything out the book to try and prevent this from happening. However whatever I tried Kyler was comforted by staying in the same way and facing only one side. Now that his head has formed and it is flattened on one side he struggles to lay in any different way which I can see is causing him to be stressed as well as uncomfortable. He is able to roll over but only over the left side which I believe is because of his favorite side and worried this will be the case because of him not being comfortable laying on his right side.
All I want is for my baby to feel comfortable and be able to meet his milestones and live a happy life. And for him to be able to do so is for this to be corrected with a head helmet. I have done enough research to know that it is not cheap... and im trying my hardest to be able to get the right amount of funds to get treatment for my baby boy so he can live life to his fullest. I hate to have to ask for help but in this situation I'm having to to ensure my baby boy is getting what he needs to be happy.
Thankyou to everyone that wants to help Kyler on his journey. 
Donating through JustGiving is simple, fast and totally secure. Your details are safe with JustGiving - they'll never sell them on or send unwanted emails. Once you donate, they'll send your money directly to the charity. So it's the most efficient way to donate - saving time and cutting costs for the charity.