Ayala's Journey to Independency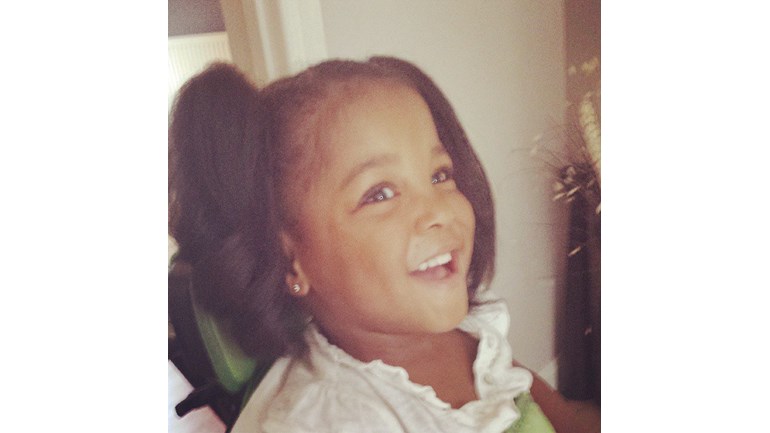 Hi. My name is Ayala (pronounced Isla) I am 9 years old and have Cerebral Palsy.

I was born extremely prematurely at 25+5 weeks with my twin sister Caira.  Mummy was admitted to hospital at 24 weeks where she was told there would be nothing the doctors could do to save us. 
Fortunately my sister and I are strong, determined little girls who decided to stay and cook in Mummy's tummy a bit longer. 
Both my sister, Caira and I suffered bleeds to the brain within 24 hours of being born.  Caira was unaffected by her bleed. 
The next day Mummy was told more bad news, both of us had large holes in our tiny hearts.  If we did not have surgery it could be fatal.  The doctors tried to close our holes with Ibruprofen but sadly one of the side affects was a perforation to the bowel - which I got.  I had to have emergency surgery fix it and I was whisked away to Addenbrooke's hospital in Cambridge, leaving my sister behind in Luton & Dunstable hospital.  At the time I did not know it would be 4 months before I was able to see my sister again.
Both us had successful surgery on our hearts a day apart from each other in different hospitals, on the opposite sides of London.  Mummy made the long journey in between hospitals everyday to see us both.
I have lost count of how many operations I have had on my bowels and am covered in scars but my mummy says they are scars of courage and strength and I am proud to show them off.
I have also had 4 blood transfusions and have managed to overcome ammonia, chest infections, septicemia and my worse battle was with a condition called NEC.  NEC is when part of the bowl dies and Mummy was told that chances of me surviving was under 10%.  I over came this TWICE!!
I was diagnosed with Quadriplegic Cerebral Palsy when I was 9 months old. 
I am a happy, intelligent little chatterbox and I never let my physical disabilities get in the way of things I want to do.
The doctors told mummy that I would be fed through a tube for the rest of my life, I would not communicate, I would never walk... well 9 months after having my feeding tube Mummy took it out as I was thriving eating solid foods.  I began to talk at the age of 2 and now there is no stopping me.  Mummy says I even talk in my sleep hehe.
I cannot yet sit, walk or crawl on my own but Mummy does my physio every night (which I LOVE) and soon I hope I will be able to sit all by myself.  I am NOT how the doctors defined me and I will continue to prove them wrong.
Even though Mummy does a lot of physio with me my muscles are still very tight and often painful.  I had surgery in January 2016 to release the tendons in my hips, hamstrings and adductor muscles.  I was in hospital for 4 days and ended up having to spend a night in HDU because I was in so much pain...however true to my character 2 days later I was home and smiling! I spent 8 weeks in plaster cast and a further two weeks in splints to keep my legs straight and my muscles long.  Mummy began taking me to see a private therapist to make sure I never have to have that horrendous operation again.  
I have recently had major surgery on my hips.  My hips were dislocating as they have never formed properly due to being a non walker.  I had 3 bones broken and had them pinned back together.  
Since this surgery in August 2018, I am able to sit with very little support (something I have never been able to do). 
In April 2015 I was the most luckiest girl in the world when a local architect, Helen Ball, and her team of builders transformed my home so that downstairs is completely accessible.  With the help of donations Mummy has been able to have the garden leveled out too so that I can play in the garden with my sister and friends.  

I have done A LOT of growing these last few years (as well as my equipment) - So mummy now needs to make my bedroom and bathroom bigger and change the equipment in there to suit my needs.  This will include a hydrotherapy bath and a very specialist toilet which will clean me with the push of a button!! 

While I am very fortunate to be living in a time where great technology is available to me - they do cost a lot of money. 
Hopefully with your donations I can raise enough money to fund treatments and fund specialist equipment not available on the NHS. 
I am a feisty, sassy, strong little girl and hopefully with lots of therapy I will gain the independence within my character that my body has stolen from me.  
Any money raised will go towards physiotherapy and funding the adaptations that I need in my home to give me that independence I long for. 
Love Miss Ayala Beau xxx 
Thanks for taking the time to visit my JustGiving page.
Donating through JustGiving is simple, fast and totally secure. Your details are safe with JustGiving – they'll never sell them on or send unwanted emails. Once you donate, they'll send your money directly to the charity. So it's the most efficient way to donate – saving time and cutting costs for the charity.