Molly's Wish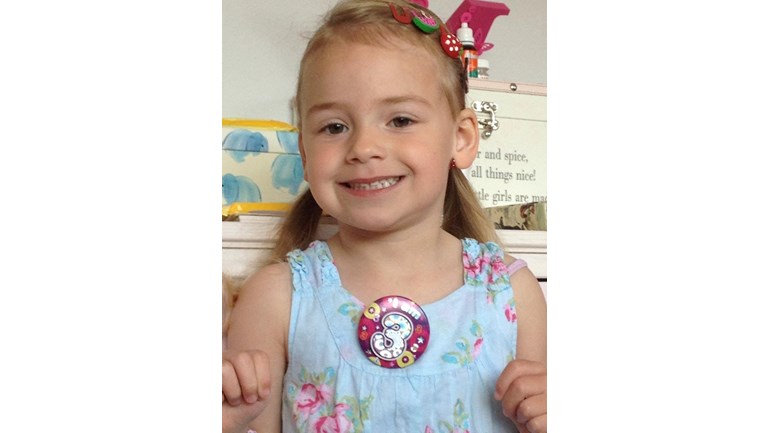 This is our gorgeous girl Molly who was born on 30th September 2010. She is now a funny, determined and very caring 4 year old.
Molly was born 8 weeks premature. She was induced due to her mother suffering kidney failure from a long term disease. The pregnancy was very hard to say the least and it was best for both Molly and her Mothers health that she had to be born early.
Molly was delivered under intensive precautions but fortunately had a natural delivery. She was 4lb 4oz when born so had to stay in SCUBU for 5 long weeks until she was feeding on her own and gained enough weight to come home.
Once home, she seemed to go from strength to strength, nothing seemed to be amiss.
Then it was noticed that there were late development stages, we didn't seem to think anything of it, we were aware that things might be slow due to being premature.
At around 18 months old, Molly started her first few steps.
A few months later, Molly was getting more confident on her feet but we noticed her left foot in particular was curling inward and she was walking more and more on her toes.
In February 2013, a brief visit to a health visitor about her toe walking got her referred straight to a physiotherapist.
By April 2013, we were regular visitors every other week with her physiotherapist.
The physiotherapist however, wanted her seen by a paediatrician as suspected something a little more serious than a habit of toe walking which some toddlers develop.
Late April 2013, we had a very emotional appointment with a paediatrician who after several developmental tests and learning her history of being premature, diagnosed Molly with Cerebral Palsy.
This was a complete shock to us, we were devastated and didn't understand properly what Cerebral Palsy was at all. After all, we just thought she had developed her own style of walking and she would grow out of it.
Unfortunately this wasn't the case.
Molly had suffered some brain damage through birth or post birth somehow which has led to her brain not sending the correct messages to her feet to put her heels down whilst walking.
Molly now walks completely on her toes and only occasionally puts her right foot down completely. Her left foot is very stiff and deteriorating and it is with great effort that she can put it flat and this would only be for a few seconds by herself.
Molly can't run easily and finds it hard to keep up with her peers. She can't jump without holding on, which makes her dream of having a trampoline near enough impossible as she would get too frustrated. She cannot hop, although she tries so hard to do it all. She has trouble climbing stairs as needs to hold on for balance and she cannot get up very well from a sitting position to be able to stand. Walking on her toes constantly is very tiring for her and she is having to do double the work of an able 4 year old. As she gets extremely tired, this is when her balance is very much affected and this is when she falls a lot.
Molly isn't aware that she has Cerebral Palsy as, at 4 years old, she is too young to understand but she is most definitely aware that she is different to other children and we try so hard to let her know that it's ok to be different and that's what makes the world go round.
This leads to why we are fundraising for Molly...
We have found a Childrens Hospital called Saint Louis in Missouri, USA, who carry out a potentially life changing operation called Selective Dorsal Rhizotomy (SDR)...
This operation will relieve the spasticity in Molly's legs and will hopefully prevent her stiffness deteriorating any further, steering away from potential walking aids or a wheelchair in the future.
If we can manage to get this operation for her, it may give her the chance with lots of hard work from her, us and her family and friends, to live life to its fullest and we, as her parents, understandably want to give our baby girl the best chance.
There is lots of intensive physiotherapy post operation and Molly will need lots more physio pre operation too to gain her strength ready for the intense surgery.
We, as her parents, are still undergoing lots of different appointments to confirm Molly as a candidate for the operation, including an MRI scan and sending lots of different paperwork over to America.
The grand total of £50,000 will go towards the SDR surgery with Dr Park (100% success rate), private physiotherapy needed post surgery and for any equipment needed for Molly throughout the journey.
The SDR operation is offered here in the UK  but there is a much higher criteria level due to funding. We have chosen Dr Park because of his expertise in this particular SDR operation and because he was the founder of the surgery, we only want the best and we will go to the end of the earth to get the best too as any parent would.
Please take a look at the website for more details on the SDR operation and to follow Molly's journey...
www.mollyswish.co.uk
We are also on Facebook under 'Molly's Wish', please like and share our page, we need every inch of your support, thank you.
Please, please help us to raise this money to give our daughter, Molly, the best start in her young years and to help her to live the rest of her life independently.
Thank you for visiting our Just Giving page,
Nicola and Phill Roots (Molly's Mummy and Daddy)
XxX
 Should we exceed the target amount (or if we do not raise enough funds, or if they cannot be used for any other reason) the funds raised will go to the general funds of Tree of Hope to assist other sick children.
Donating through JustGiving is simple, fast and totally secure. Your details are safe with JustGiving – they'll never sell them on or send unwanted emails. Once you donate, they'll send your money directly to the charity. So it's the most efficient way to donate – saving time and cutting costs for the charity.