Ava's adeli dreams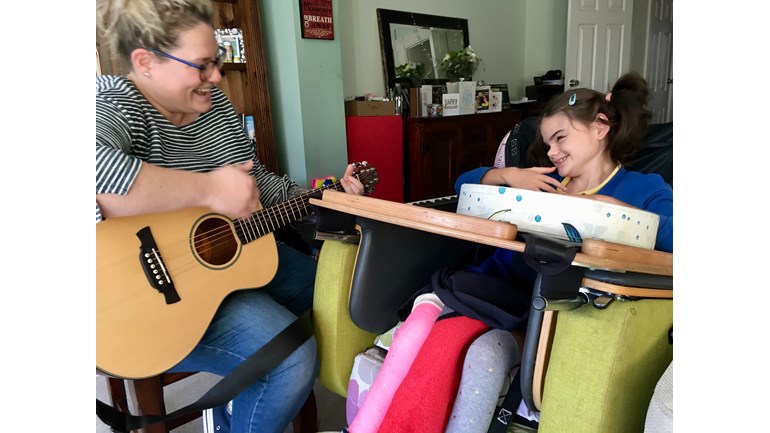 Thanks for visiting my just giving page.
Donating through JustGiving is simple, fast and totally secure. Your details are safe with JustGiving – they'll never sell them on or send unwanted emails. Once you donate, they'll send your money directly to the charity. So it's the most efficient way to donate – saving time and cutting costs for the charity.

Ava is our 12 year old treasure. She as born six weeks prematurely, initially appearing perfectly healthy but at 10 days old our world fell apart when she was diagnosed with hydrocephalus which caused a life threatening build up of fluid in her brain. An infection had caused damage throughout every section of her brain, damaging her eyes and leaving her blind. Ava went on to be diagnosed with cerebral palsy, which effects all her limbs, has dislocated her hips and she has complex, uncontrolled epilepsy.

Ava initially coped very well with her condition and was making slow and steady progress. She had learnt to sit independently, stand with support, was able to feed herself and say "mum, dad and Nan". In March  2011 Ava's shunt blocked.  fluid built up in her brain and misdiagnosis meant a delay in treatment . When Ava recovered from surgery we realised she had lost all the skills she had fought so hard to  get and seizures were taking control of her life, making progress incredibly difficult . It took two years to stabilise Ava after this trauma but she started to fight back and we started to recognise the little girl we had had.

In the summer of 2013, we learnt that Ava's left hip had dislocated. Her right hip was also compromised. Our dreams of seeing her stand again were shattered!

We had heard about the Adeli medical Centre through one of Ava's friends who has been making regular trips and has made remarkable progress and we wondered if they could help Ava. In September 2013 we took Ava for a two week course of intensive rehabilitation. It was like nothing she had ever done before and  there were moments where we worried if we had even done the right thing but within 48hours we could see a difference! At the end of the stay Ava graduated. She had worked incredibly hard and we were all extremely proud. The results were  staggering and testament to all her hard work. They had reduce the spasticity in her legs by over 50%! Her legs, that had been locked together for so long were able to open 8cm wide and she was able to wrap her legs around my waist for the first time in years! Her posture was amazing, awareness and responsiveness increased. It was like being given back the little girl we had lost years ago. 

Since that first trip, Ava returned to Adeli 5 times  Each trip brought new gifts. It increased Ava's levels of awareness and understanding, improved concentration and listening skills, increased speech sounds, increased upper body strength, gave her head control, straightened her back, improved upper body strength, enabled her to hug us for the first time and opened up neurological pathways that have enabled her to laugh! The most magical gift so far!

On 22nd Novemeber 2014 Ava said Mummy for the first time and she's making more and more speech sounds.
We are also now in the enviable position of being able to access some home based therapy for Ava. This initially came thanks to the team at Kids Physio works in Colchester where Ava was able to access weekly therapy for over 4 years and she's now under the incredible Neil Webster at Mini Wonders children's physiotherapy and is having weekly physiotherapy at home, where she feels most confident. This therapy has become increasingly essential, as Ava's growing so fast and her muscles struggle to keep up, causing terrible back and joint pain if we can't keep her mobile and flexible.
You are also funding Weekly one to one music therapy for Ava, with the wonderful Emily Grimes music therapy service. Music has always been a very magical gift and has been something that's got through to Ava, even when she's been desperately unwell, screaming in pain or traumatised by hospital procedures. The first time Ava ever responded to her name was in a music therapy session and she literally comes alive in sessions and communicates with her therapist in truly magical ways. 
Other ways in which your fundraising has helped has been to help us purchase specialist equipment for Ava. The nhs are only able to offer wheelchairs etc that meet her very basic needs but we are often left with the bill to fund things that would improve her quality of life that much more and offer more comfort and support than the basic provisions. Ava always strives to be the best that she can be and we strive to ensure she has the best to enable this to happen.

Your continued support is so very much appreciated and we couldn't do it without you! 
Should we exceed the target amount (or if we do not raise enough funds, or if they cannot be used for any other reason) the funds raised will go to the general funds of Tree of Hope to assist other sick children.