Autism Assistance Dog for Freddie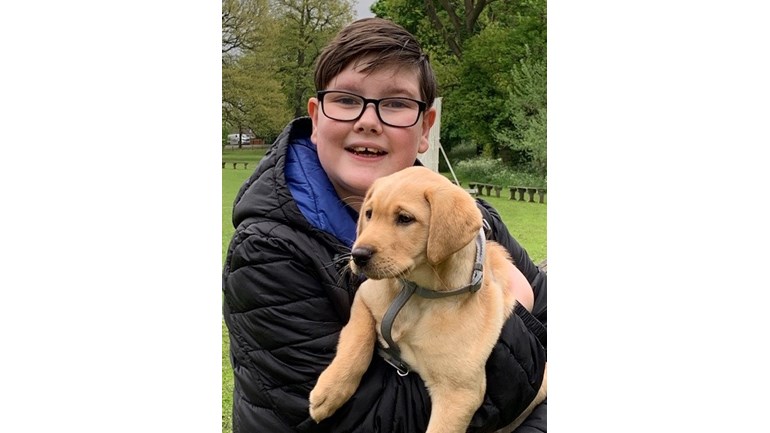 Thanks for taking the time to visit our JustGiving page.
We are raising money through registered charity Tree of Hope to
fund an Autism Assistance Dog for our son Freddie.
Freddie is 12 years old and in 2020 he was diagnosed with Autism and
Sensory Processing Difficulties.
 These conditions affect how Freddie's brain processes sensory information and can mean that lights, sounds, smells, tastes and textures can be extremely overwhelming and even painful.  Communication can be challenging and distressing which can make day to day life very demanding and exhausting.
Many everyday things which we may find easy to do such as getting dressed, going outside and joining in with family events can be incredibly difficult and sometimes impossible for Freddie to do.
Supporting Paws is an organisation that provides specialist trained
assistance dogs for children with autism.
A fully trained assistance dog from Supporting Paws can assist Freddie with overcoming his disability by supporting everyday activities, providing deep pressure therapy to support his sensory difficulties, reduce anxiety, help him to cope with unfamiliar surroundings and encourage him to go out and try new activities.
We hope that an assistance dog will enable Freddie to access the
same opportunities as other 12 year olds, accessing the outside world and enjoying independence.
Please help in any way you can to enable us to make life better for Freddie.
Thank you 😊
7.5% of all donations to Tree of Hope in relation to this appeal will be allocated to the general charitable purposes of Tree of Hope to cover our core operating costs.
If we raise insufficient funds, or surplus funds, then the funds will be used, if appropriate, to fund support for our child's needs in accordance with Tree of Hope's charitable objects.  If in those circumstances we are unable to use all or part of the funds for the benefit of our child in accordance with Tree of Hope's charitable objects, then any funds that cannot be used will be transferred to be used for the general charitable purposes of Tree of Hope.