Our Daughter Aria is doing her best to develop and would love your support.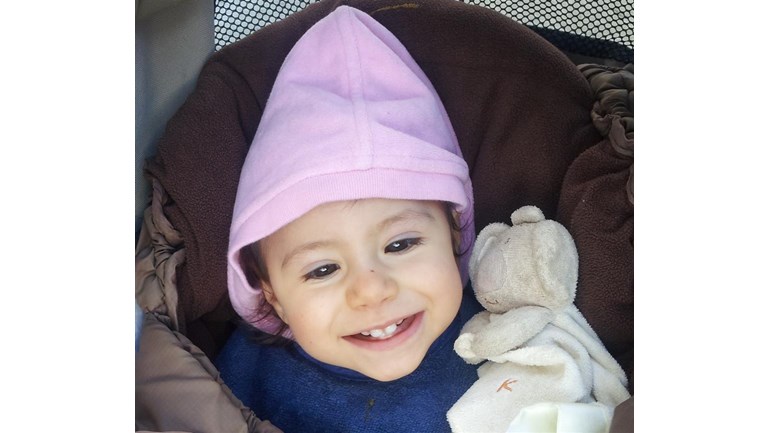 Dear everyone, 
If you find yourself reading this page, you might be curious about who this little person is and what can you do for her. Firstly, we'd thank you very much for your help and interest.
Aria was a very much wanted baby, we enjoyed an easy pregnancy and a beautiful, gentle home birth. However, very soon after she was born, Aria curled up into a small ball and did not wake up to feed. Days later we were told that she was born with a rare, life-threatening condition and that she was unlikely to survive babyhood. The message was that nothing could be done, that we needed to be prepared for her sudden death at any moment. 
Needless to say how devastating and painful this was for us. Not only the task of preparing for imminent death, but also having to face the future health complications and the possible developmental disabilities. However…all was not sad…how could it be with such a blessed gift that she is? Every time we looked at her and felt her beauty, our hearts cracked open and our worries and fears melted away into gratitude and joy for her extraordinary presence in our lives. 
Deep down our instinct told us something different to the doctors and as time passed we began to discern another story unfolding. Indeed, to this day, Aria has remained stable, without any major health complications and showing signs of a slow but sure development, exceeding all medical expectations and defying the dire prognosis. The last time we saw her paediatrician he said: "I don't know what this means! She is going to keep us guessing. This might be a case of nurture over nature!"
We, her parents are very committed to Aria. We take the position of not knowing, not assuming, not trying to achieve but rather meeting her where she is in the present moment, in the best way we can. What matters is that Aria is alive, growing, learning and in many ways thriving. We feel we are constantly learning from her, and being guided and responding to where she leads us.
But most importantly, this little person is constantly trying her best and WE CAN HELP HER.
Aria is of a gentle, sensitive nature and has a positive predisposition in the face of her challenges. She amazes us with her resilience and strength, her patience and determination. After 9 months of attempting to latch on at the breast, one day she surprised us all by finally succeeding. Her widening smiles, more frequent laughter and wanting to play are a result of the setting influence of breastfeeding as well as spending longer periods of time without digestive discomfort. At 16 months she was beginning to feed with the spoon, and successfully weaned herself off the tube in July 2015. 
We know this has been with  the help of private therapies. We are also observing a decrease in involuntary movements as her nervous system becomes stronger and she becomes more able to enact intentional movement. We have noticed a better holding of her trunk, improved head control and increased balance so that sitting up independently may soon be possible. One of her therapies specifically aims to support her natural impulse to roll over and grab onto things, leading to a huge leap in learning and a delight in the sense of empowerment that it gives her.
Aria's capacity to assimilate sensory information has increased gradually and she is very aware and more able to engage with the world without being overwhelmed. We are observing more eye contact and recognition of people and places as well as a clear love for the outdoors. Aria is very attuned to her surroundings through sound, and every day, music, songs and reading stories help her to focus and relax.
All money donated will go to Aria's therapies, which include Advanced Bio-mechanical Rehabilitation (ABR), sessions with speech therapist Suzanne Morris, developmental shiatsu with Bill Palmer, cranial osteopathy therapy with Mary Monro and nutritional consultations. 
We are convinced they are helping her to move forward with her motor skills and general health and development. We have no regret in having spent our savings on them as we watch the benefits, day after day but we need help to ensure Aria continues to have access to them and we can ensure quality of life.
Thank you for your generosity.
If you would like to know more about the therapies we use please visit the following websites:
ABR- www.abrscotland.com
Speech Therapist- http://www.new-vis.com/
Developmental Shiatsu-http://www.seed.org/
Cranial Osteopathy- www.mmost.co.uk/
Nutritional Consultations- drheatherway.vpweb.com.au