Creating a Future for Paralysed Archie Adams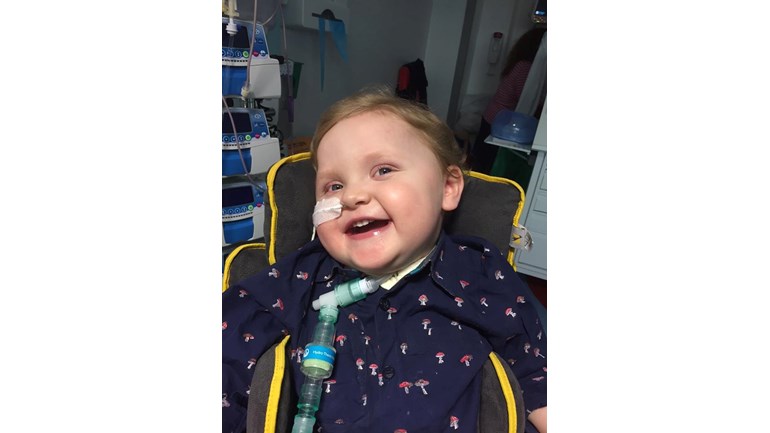 An introduction from Archie!  
My name is Archie Adams and I am two years old. I used to live at home in Southampton with my two brothers and my Mummy and Daddy. Unfortunately in May 2015 I caught a virus and became very ill. I was rushed to hospital where I was diagnosed with Transverse Myelitis. This is a rare condition which unfortunately means I am paralysed and cannot use my arms or legs any more. Since my diagnosis I have had to have a tracheostomy because I cannot breathe on my own, a pacemaker to help my heart and some other operations to sort out kidney stones.

I am a happy boy and luckily for me I am told I have the best smile in the world! My Mum and Dad say I am clever and I definitely understand what people are saying. I have found a way of telling you what I do and don't like by facial movements and am starting to try to speak a few words.

Now I am getting bigger the plan is for me to learn to use a computer to communicate using my eyes to control it. One day soon I hope I will be able to go home and live with my Mummy, Daddy and brothers Lewis and Ollie in a home which will have been specially adapted for me. Before that can happen a lot of things need to be sorted and we need to raise some money to help change things at home and pay for my special computer which will be controlled by eye movement.

Thank you for reading this, I hope you will be able to help me a little bit and in return I promise to keep smiling and trying my best.

Archie x

Message from us - Archie's parents: We were completely shattered by the sudden illness of our gorgeous middle son. We have watched as he has grown from a baby to a toddler over the last nine months in hospital and will seek every possible avenue to give him the best chance in spite of his paralysis. We will try everything to get him the best possible chance to learn and contribute in life, but cannot do it alone. We need the specialists who can help us to get him equipment to learn and hopefully move in some way. We hope that the use of eye movement technology will enable him to use a computer and one day move his wheelchair.

Archie has had exceptional medical care from the staff at Southampton Childrens Hospital and soon will move to a specialist unit for intensive paediatric rehabilitation where he will be introduced to all these new things. Once he has finished there we hope he will be able to move back home with us. We just need your support to help us to create the facilities that Archie will need.

If you feel able to help us to achieve this by donating whatever you can please do so....we would be extremely grateful. 
You can keep up to date on how Archie is getting on by following his facebookpagewww.facebook.com/archiesfuture

Thank you for reading his page.

Karen and Russell Adams


Tree of Hope reserves to use these funds for any purpose stated in the parents charter, including but not limited to, medical treatment, surgery and therapies and related travel expenses, medical and exercise equipment, childcare, home adaptations and the cost of vehicles designed for the disabled.

Thanks for taking the time to read this.  Donating through JustGiving is simple, fast and totally secure. Your details are safe with JustGiving - they'll never sell them on or send unwanted emails. Once you donate, they'll send your money directly to the charity. So it's the most efficient way to donate - saving time and cutting costs for the charity.