Appeal For Aid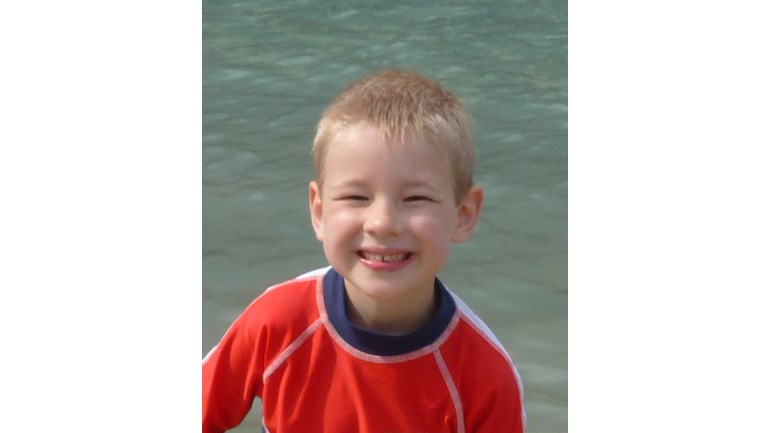 Aidan - aka Aid - is a six-year-old boy who has cerebral palsy (spastic diplegia). We're raising money for an operation that'll help him walk better. 
A bit about Aidan
Aidan and his twin brother, Cameron, were born early at 32 weeks and spent the first six weeks of their lives in a special care unit. Aidan seemed to be developing normally - until we noticed he wasn't reaching his physical milestones.
He first sat up unassisted at 12 months and he couldn't walk alone until he was two-and-a-half. He now walks independently but he's high on his toes. He can't plant his heels on the floor, which makes him very unbalanced, and he falls frequently. He can't walk for long distances and his muscles aren't strong enough to allow him to stand still. He can't wiggle his toes.
Despite all this, Aidan is a very active boy and he's utterly determined to play for Manchester United. He loves playing football with his friends but he's generally put in goal. He doesn't mind being the keeper, though and he's really brave, throwing himself to the floor to make saves - probably because he's so used to falling over!
He'd love to be able to ride a bike and to run as fast (or nearly as fast) as his friends and his brother. He adores watching and trying to play sports.  He especially likes cricket and has excellent hand-to-eye co-ordination - his batting is remarkably good. It's just a shame his legs can't keep up.
A bit about the operation
Selective Dorsal Rhizotomy (SDR) is a neuro-surgical procedure that cuts carefully selected nerves in the spinal cord. This will reduce muscle tightness (spasticity) in Aidan's legs, allowing him to get his heels flat to the floor. It will improve his balance and give him a much steadier gait. It'll also eliminate the need for orthopaedic surgery later in his life.
If Aidan doesn't have the operation, he'll most probably suffer long-term deformity and may require a wheelchair to get around.
SDR is quite new to the UK but it's now being offered by a handful of hospitals across the country. The NHS had been funding this operation, but recent changes to the application process have led to funding being totally withdrawn.  
So, we have a very challenging target to hit in a very short space of time as the operation is scheduled for the 29th August. And Aid has a very difficult journey after that, starting with two years of intensive post-op physiotherapy.
But we believe anything is possible. And, most importantly, so does he.
_______________________________________________________
Thanks for taking the time to visit my JustGiving page.
Donating through JustGiving is simple, fast and totally secure. Your details are safe with JustGiving – they'll never sell them on or send unwanted emails. Once you donate, they'll send your money directly to the charity. So it's the most efficient way to donate – saving time and cutting costs for the charity.
So please dig deep and donate now.
Should we exceed the target amount (or if we do not raise enough funds, or if they cannot be used for any other reason) the funds raised will go to the general funds of Tree of Hope to assist other sick children.