Ansh's Dream to Walk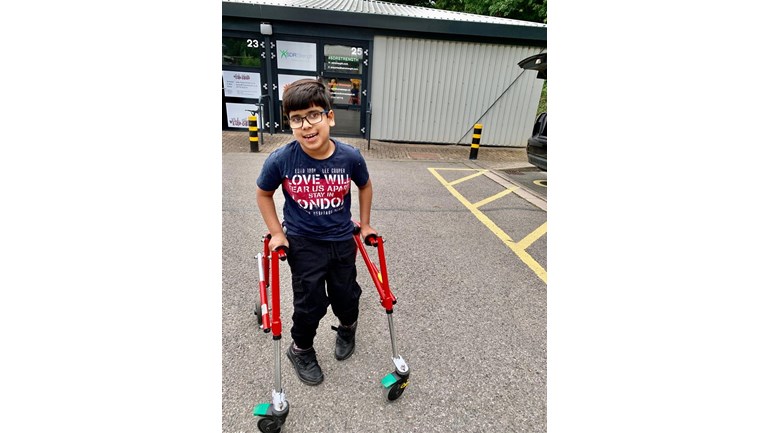 Ansh's journey towards walking in few paragraphs…..

22nd December , 2011 was the most exciting and surprise day for me and my husband as it was the day of my c-section delivery for my very first pregnancy. As any other parent the whole family was much awaiting and were extremely busy in welcoming the first baby of the next generation. Finally, the D-day came and we were blessed with a baby boy, Ansh, who just came to the world and filled our lives with only love, emotions and happiness.
Ansh started his journey of life among all the loved ones and without any complicated surgery and life was at its best for us. Ansh had been a good in his early days except he was a very unsettled baby in his first few months. This was a worry-some being a first time parents but with the elder's advise and moral support, the days passed by and Ansh was growing like our little prince and we were thankful to God for the lovely gift in our hands.
Days passed by like a flashing light and the time came for Ansh to crawl and sit up and we were waiting excitingly for the day. Ansh on the other hand was reaching his milestone as any other baby would have done. We didn't have the clue of what was the real thing could be behind this slow development. We consoled ourself with the idea that every baby had his own pace of development and were ready for his turning , crawling and sitting and every other baby milestones. He showed no signs of any of these development. The hidden scare inside us started to get worse. Finally, health visitor advised us to see the pediatrician for Ansh's delay development.
The day of the pediatrician's visit changed our lives forever. Dr.Hilary, one of finest pediatrician, introduced us to the word "Cerebral Palsy". It was an alien term for us, never heard of that before to be honest. Ansh was diagnosed with the condition of lifelong irreversible CP. When the little brain is unable to absorb the oxygen for few seconds in the early life that part of brain cells gets paralyzed and stops functioning.
Then began our endless frequent trips to MRI test center, pediatrician, therapists etc. With all these things now have become a part of our life. Slowly, we came to terms of accepting this bitter truth in our life and accept it finally as our destiny. So life wanted us to be the strongest parent and get set going for a seamless effort to make Ansh's life better.
He did turned over, sit up and crawled but much later than his milestone age. But Ansh is still do little crawling but mostly bunny hopping way. He is a very smart boy. He is today intelligent loving 8 years old kid ,ruling our hearts.
Today Ansh is studying in a mainstream school, excelling in his studies. Though his all time favorite subject is maths but manages to write with his left hand. Affected on his right side limbs more than his left side, life has been struggle for this dude always. He does walk with the help of his kay-walking frame and sitting standing with the support, writing ,vision(btw Ansh also had his childhood cataract surgery at the age of five, a rare thing in the children) going for a wee, dressing up , talking etc etc etc. But Ansh has taken up all the challenges like tough boy and is still now fighting for it.
Ansh is now working hard and trying everything to make him strong and ready for SDR surgery , which he knows as the only option which could help him walk. He is genuinely exercising regularly, taking swimming lessons , horse riding session and also goes for his absolute favourite bike riding. Being a very determined boy, he wishes to walk like any of his class mate .
SDR surgery is on the finest gift of the doctors to all the children like Ansh to walk and do everything which a normal child do. Ansh is just looking for forward for his basic physical freedom of being independent.
 Being a parent, it is difficult and nerve wracking to see children of not getting his bare minimum physical ability. So we looking for this surgery which is handsomely expensive with lots of pre and post Operative Therapies etc. Its like learn to walk again from scratch.
Team at GOSH London thinks Ansh will be able to get NHS funding for his surgery and have put Ansh on waitlist for operation, but Ansh would require lots of strenuous and extensive therapy which forms an integral part of the success of this procedure. These Physio Therapy, additional sessions of swimming, horse riding etc etc will need to be funded private. And this is a must after surgery.
Looking forward for all your Generosity with very good heart and hoping we all could all join our hands in Ansh's Dream to walk.
Please dear friends, if we all could support in Ansh' s dream to walk in our own little way, will Ansh's life more confident to live with and we will think we where the chosen parents by God Almighty to help a little Prince achieve his Dreams. 
Latest update : Ansh had his SDR Operation at GOSH London on 4th December 2020. He is now having lots of Physio and activities to make him back to where he was pre SDR and beyond ... wish him luck. 
Thanks and regards
Payal (Mom)
Nikhil (Dad)