A new hope for Daniel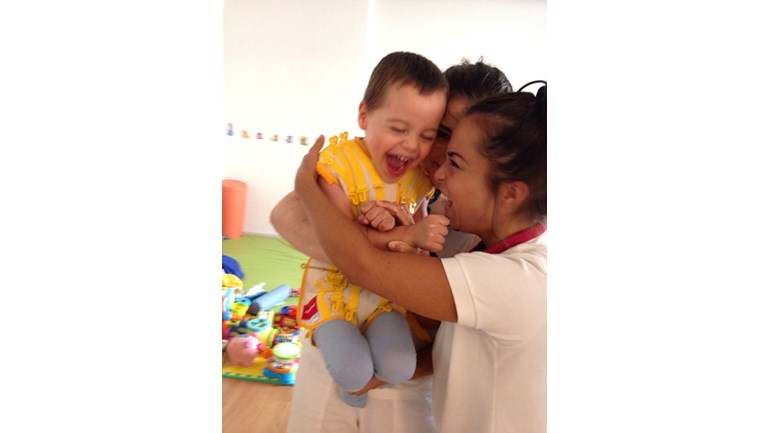 Hello my name is Daniel and I'm 6
Years old. I was born with cerebral palsy and cystic periventricular leukomalacia. This is a condition where development delays and many other problems arise.
I struggle to sit up and my legs will tense all over when I try. I can't eat or put anything to my mouth when I'm on my own. Something stops me from making progress when I'm standing, this always with support, I just don't understand. It's frustrating! I want to have a chance in life  and I understand it starts from small things. I rely on my parents for everything, from exercises at home to being there when the therapist move my muscles about. They help me with each step of the way but optimism won't work wonders.
I'm  a student at Levity School and I want to have a chance to chase the others around when they're playing. It would be a dream come true to participate in games. I want to act my age, you know?
I heard there's a CHS-CEI intensive stimulation center in Portugal where the specialised treatment I need, is available and on offer for children with brain damage such as myself, where i recently completed three cycles of intensive therapy with excellent results. I managed to go and get this special help thanks to your donations! I am also going to 'kids physio works' in Colchester Essex, this way i will not lose what i have learnt in the previous cycles but rather i will improve. 
My family is down on their knees for me, pleading for you to get involved in this cause. Donate as little or as much as you can/want. It would boost us, to reach my growth transformation. A true miracle!
In addition, if you would like to follow my steps, to see how i am progressing you can visit: www.helpdanielwalk.com 
You can also Doante via text. Simply type :
NIEL72
£5 or £10 
To 70070
Should we exceed the target amount (or if we do not raise enough funds, or if they cannot be used for any other reason) the funds raised will go to the general funds of Tree of Hope to assist other sick children.