Fund An Assistance Dog for Marie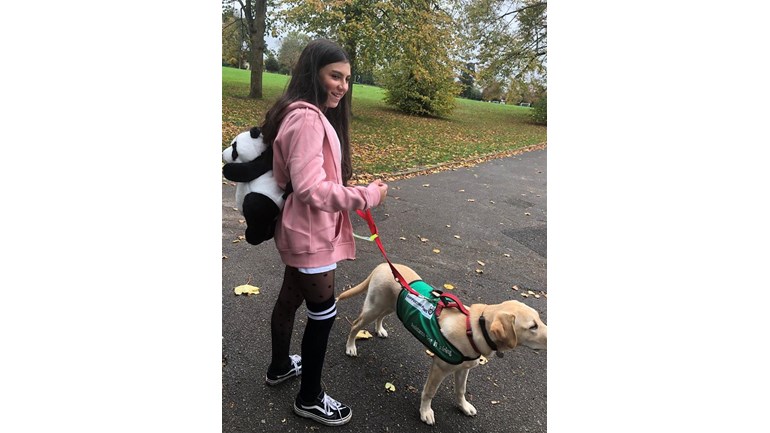 Marie's story: Hi i'm Marie. I have autism and dyslexia. I am 12 years old. My autism causes me a lot of anxiety, frustration and i can be socially awkward. I really like hello kitty, painting, collecting dolls and my little pony figures. My friends like to go out but because of my anxiety and dyslexia i don't like to go out to the shops with them. I think this dog will help me be more confident so i can finally have fun with my friends when covid is over. 
I will be given a female golden retriever. She will also be my new best friend and she will make me feel better when i'm sad. I can't wait to name the dog when i get her! So i hope you might donate or share this to help me get a best friend and a helper. 
My story: Hello my name is Isabella. I am Marie's mum. Marie has been diagnosed with autism and the learning disability, dyslexia. The effects of these serious conditions for Marie are life changing. It means that maintaining an everyday existence for her and her family can be immensely difficult. Having an expertly trained assistance dog provided by Supporting Paws will remove a lot of Marie's constant anxiety that fuels the difficulties that she faces a lot of the time. An assistance dog will, in short, transform her everyday life. This is true for Marie when she is around the house, when going to and from school, when going out to a shop and when going to bed. 
Marie was diagnosed with autism when she nine years old  and dyslexia, which she was diagnosed with,  not long after. The two conditions can often can be linked. Ever since then I've  been trying my best to support Marie's needs. We have been told that Marie's dog will be female. Marie has had a very exciting time thinking of names!
.Although she tries to hide it, Marie does struggle with socialising. This dog will teach her how to have a positive relationship with other people.
Marie has quite bad anxiety to the point where she's dreads leaving the house. This only changes when she has to leave in order to go to school. But having this dog will make her understand that leaving the house isn't always a bad thing and she will also need to walk the dog on a regular basis.
Her dog will need a lot of care so it will help Marie with managing responsibility and teach Marie how to be independent in a way that is fun. 
In June after the dog is born and it is paired with Marie  you can follow Marie's journey at www.supportingpaws.co.uk 
Please donate and share with everyone you know to help make this happen!