Amelia's mission to walk!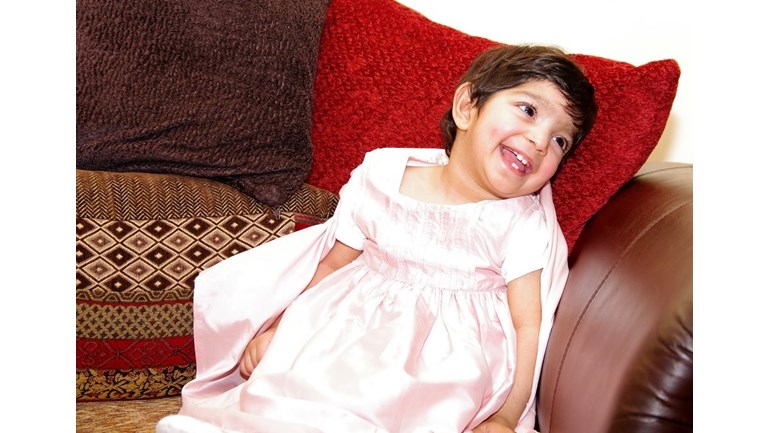 My name is Amelia, I am nearly four years old and this is my story. I had a stormy arrival on the 27 of May 2010, and weighed 4lbs with the umbilical cord wrapped around my neck five times (I must have done some rolling about in mummy's tummy!) My mummy had an emergency Caesarean Section and I was resuscitated five times as I wasn't breathing when the doctors delivered me. I spent a week on a ventilator as I couldn't breathe independently and overcame lots of complications as all my vital organs were damaged.
After fighting for a whole 3 weeks and finally being able to feed from a bottle, (the nasal tube was so painful), I was allowed home! (PHEW) My mummy's nursery was so much more comfortable and cosy! But despite my determination to stay away, unfortunately due to my weak immune system, I spent the majority of my early life in hospital fighting various infections.
At 12 months, my mummy and daddy were hit with the devastating news that I had Quadriplegic Cerebral Palsy due to starvation of oxygen during birth. Furthermore, I was not meeting any of my milestones despite my mummy spending day and night doing all my physiotherapy exercises and starting hydrotherapy.
Due to my CP, I also suffered from severe reflux. Despite my mummy starting me on solids, my sickness continued and I felt very weak. Therefore, just before my 2 birthday, I was readmitted to Leeds General Infirmary and had a gastric tube fitted. This meant I could be tube fed so I could put on more weight as I was becoming weaker by the day. However, my severe vomiting escalated and consequently I underwent another surgical procedure, last year at Leeds General Infirmary, which tightened the top of my stomach to prevent the vomiting. This was a five hour operation which kept my mummy and daddy on tenterhooks.
Since this operation last year, I have stopped vomiting but I still agonisingly wretch when I try to orally eat my favourite food (Milky Bar is mine, what's yours?).
Furthermore due to spasticity in both my upper and lower limbs, I find it incredibly hard to move around. My sitting and balance is affected and even though I try my best to crawl, the tightness in my muscles cause me immense pain and hinder all my movements. Also, this lack of movement contributes to my severe constipation hence affects my ability to have a good night's sleep.
I am a very bright, happy and determined girl. I strive to constantly smile through my agonising condition and subsequent procedures I have endured. 
Playing with my cousins, horse riding, swimming and getting very messy with painting are my favourite activities.  But I find these past times very exhausting and I struggle as the spasticity in my muscles inhibit my movements. I am locked inside a body that I cannot control and the spastic contractions I experience are very painful and often reduce my mummy and I to tears!  I find it hard to grasp toys and often get very frustrated when I cannot join my cousins in their connect4 or snakes and ladders games.
I know my mummy tries to do everything for me including all my exercises, stretches and a full body massage before I go to bed, (I love them … very relaxing ) but despite all this my suffering continues.  I love going to nursery everyday as I have become 'MISS POPULAR' with my teachers and peers. However, I feel extremely tired when I come back from nursery. Holding and supporting my head and neck in an upright position for more than 5 minutes is virtually impossible for me as my muscles are weak.  Imagine your mind not being able to control your body. It feels like I am trapped in a suffocating cabin of a train that has no destination.
As I am getting older, my muscles are becoming weaker and despite my best efforts I am unable to do every day things like hold a pencil, colour and paint.
It is highly likely that I will need further surgery in the future as many children suffering from CP develop problems with their hips leading to dislocation. The future looks bleak for me, as the NHS say 'Time will tell' but I am scared it will be too late. My whole body structure will become damaged and deformed giving me a very slim chance of ever walking! My dream is to run about on the beach as I love the sun, sea and sand.
But HOPE is at hand with a new therapy my mummy has found called Advanced Biomechanical Rehabilitation (ABR). ABR is a private treatment available only in Scotland which reverses many of the muscular and skeletal problems caused by brain injury and which will hopefully give me a better quality of life. ABR doesn't use drugs, surgery or any invasive techniques and the effects are transformational based on the results achieved by other parents that are already practicing ABR on their children.
ABR is a home based therapy so my mummy will spend at least 3 hours a day (a lot of hard work coming your way mummy) doing all the compressional movements which will deliver a mechanical stimulus to the target areas forcing the cells to reproduce and strengthen. As my visceral organs increase both in volume and strength, they will help my developing skeleton. As my muscles are spastic, the bone has forced the muscle to travel a longer route than it should have hence the muscle is tight. So as the muscle and bone return to their natural positions, the spasticity will be PERMANENTLY relieved. This will help me develop all my motor skills and no doubt I will be crawling after my toys in no time.
Unfortunately, ABR is not available on the NHS and my mummy left work to care for me, so we need kind people like you to help us make my dream of walking on the beach come true.
Mummy and I would like to thank you from the bottom of our hearts for reading my story. Any help you might be able to provide, no matter how small or seemingly insignificant, will make all the difference. Your generosity and kindness will be appreciated and remembered in every step I take. 
Please donate as much or as little as you can. If we exceed the target amount or if we do not raise enough, or if the funds cannot be used for any other reason, they will go to Tree of Hope to help other sick children.
Lots of love Amelia xxx
Thanks for taking the time to visit my JustGiving page.
Donating through JustGiving is simple, fast and totally secure. Your details are safe with JustGiving – they'll never sell them on or send unwanted emails. Once you donate, they'll send your money directly to the charity. So it's the most efficient way to donate – saving time and cutting costs for the charity.