Alfie Yates - Kit for Alfie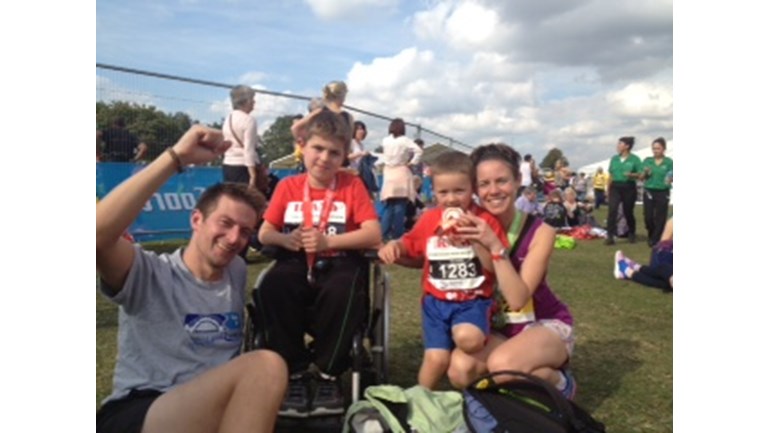 The response to this fundraising campaign has been overwhelming so far and it looks like we are set to hit our original £7K target, which is brilliant. However, please don't be put off donating if you wanted to, because the final quote for the fully adapted Boma 7 chair stands at a whopping £12.5K!!! Anything more we can do to bridge the gap between the anticipated cost and the actual cost would be brilliant. Less than a week to go until the family running challenge. See below if you want to know more about why we are raising money for Alfie.
Five years ago, our son Alfie was diagnosed with Duchenne Muscular Dystrophy. This means that his muscles are getting weaker as he is getting older. This is a life limiting condition for which there is currently no cure.
At the age of 8 and after 5 years of doing brilliantly, Alfie is now entering a particularly challenging transition stage as he becomes increasingly dependent upon his wheelchair. Getting up and down stairs is now almost impossible. More and more physical activities, outdoor and indoor fun and games are becoming unmanageable and this is heart breaking for Alfie and those that care about him.
We are hoping to raise funds to purchase a Boma 7 all-terrain electric wheelchair for Alfie so that he can experience some level of independence exploring the outdoors as he gets older. The photos attached provide some flavour of how much enjoyment and pleasure this should provide for Alfie. It will also be liberating for us as a family to be able to spend time outdoors with Alfie and his younger brother despite Alfie's deteriorating physical condition over the years to come. You can find out more about the Boma 7 (and see it in action) by having a look at www.moltenrock.co.uk.
Our proposed fundraising challenges currently include a family entry for the Robin Hood Marathon in Nottingham on Sunday 28th September. Alfie's Mum is training to run the half-marathon, Alfie's Dad (and hopefully his Uncle) are training to run the marathon and Alfie's brother (supported by Grandparents) will be charging around the fun run on the day. Alfie is head coach and chief time-keeper on the day. Should anyone else wish to join us they would be more than welcome! We will keep this page updated with further news of our fundraising efforts and those of our friends and family over the coming weeks and months.