Alfie Bears First Footsteps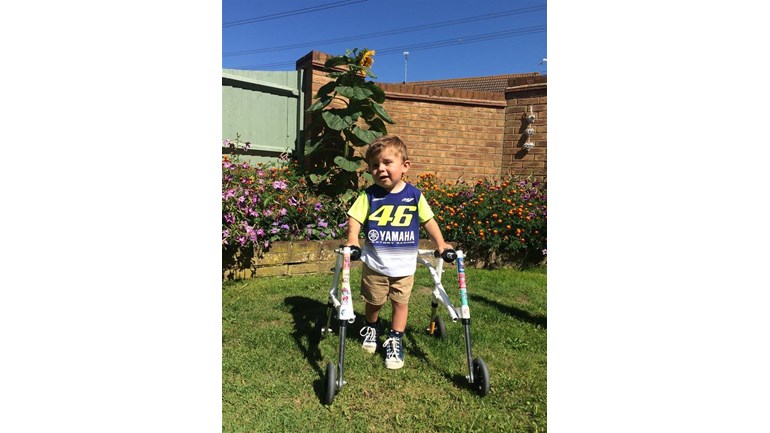 On September the 17th 2014 this little man came into our lives, with a hard pregnancy and a few complications throughout, the day had arrived to meet him. We had several further complications during the birth starting with meconium, Alfie had shoulder dystocia and had become stuck. With a lot of help he was born naturally but wasn't breathing at birth. During Alfie's first year he was a very content baby, however Kirsty's mothering instincts were that something was a miss right from an early stage. It wasn't till just after his 1st birthday that we were referred to the hospital by our GP and given the diagnosis of Cerebral Palsy.
What is cp.....?
Cerebral palsy affects different areas of the body depending on the person. It causes extreme tightness in your muscles, which in turn can cause difficulty in such key areas as speech, eating and movement. CP currently has no cure but there are many aids
and therapy's out there to help and improve these weaknesses' until such time a cure can be found. Unfortunately some of these are costly and not all funded on the NHS. Alfie has a Physiotherapist, occupational therapist, early years teacher and a speech and language therapist that all work alongside him to accommodate his development. 
Footsteps Foundation
Alfie will have completed four, 1 hour a day, 3 week sessions at footsteps during 2017 and we have seen great improvement in his core strength since starting. Physiotherapy is essential to help with Alfie's physical ability and is certainly  the best benefit we have found to date. However like everything in life this comes at a cost, Alfie's therapy ranges from £850-£2,500 per 3 week session and this is what we are trying to fundraise for.
Please visit the footsteps foundation website (listed below) to find out more about the charity.
www.footstepscentre.com
Alfie is the happiest little boy and has made so much progress since his diagnoses back at the start of 2016. Through all the physiotherapy, daily stretches, nursery, various groups and assessments he has to endure, he still keeps smiling and gives it his all.
We want to keep you all updated with his progress and also have a Facebook page for him which you can find under 'Alfie Bears First Footsteps'
Thank you for taking the time to read our story, we hope you can get behind us and help towards achieving Alfie's first footsteps.
Curtis Kirsty Paige & Alfie xXx
7.5% of all donations to Tree of Hope in relation to this appeal will be allocated to the general charitable purposes of Tree of Hope to cover our core operating costs.
If we raise insufficient funds, or surplus funds, then the funds will be used, if appropriate, to fund support for our child's needs in accordance with Tree of Hope's charitable objects. If in those circumstances we are unable to use all or part of the funds for the benefit of our child in accordance with Tree of Hope's charitable objects, then any funds that cannot be used will be transferred to be used for the general charitable purposes of Tree of Hope.