Alex's Fundraising Page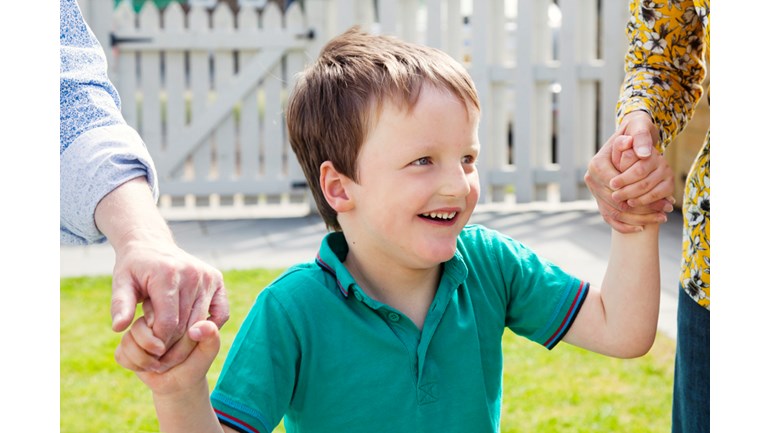 Thanks for taking the time to visit Alex's JustGiving page.
Alex is now 5 (5!) and has recently been diagnosed with Noonan's Syndrome.  You can see quite a useful wiki page in it here: https://en.wikipedia.org/wiki/Noonan_syndrome.  He sits at quite the extreme end of the syndrome so we suspect there's still quite a lot more to learn.

This hasn't made a lot of difference to our every day lives - Alex is stil just Alex :-)  He's made incredible developmental leaps recently which have been lovely to see.  He's able to walk with support (either our two hands or a walker at school) and he clearly loves being able to do it.  He's also able to commando crawl a couple of pulls across the floor - he's so much stronger than before.

With Tree of Hope we have been able to fund a 3 wheel buggy for Alex which has allowed us so much more outdoor freedom for Alex, and also a specialised bed, to keep him safe at night.  We are currently funding music therapy once a week for him as he so clearly derives a lot of enjoyment from it.  We couldn't have done any of this without you thank you all.

Alex is a beautiful boy. He is funny, cheeky, loves his food and adores his sister.  We are very lucky to have them both.
Should we exceed the target amount (or if we do not raise enough funds, or if they cannot be used for any other reason) the funds raised will go to the general funds of Tree of Hope to assist other sick children.
You can read a bit more about Alex and the progress he makes here on our blog page:
http://asalexgrowsup.wordpress.com/
Or his Facebook page:
https://www.facebook.com/asalexgrowsup?fref=ts
Thank you so much.
Helen, Gary, Emma and Alex x