Aid for Adam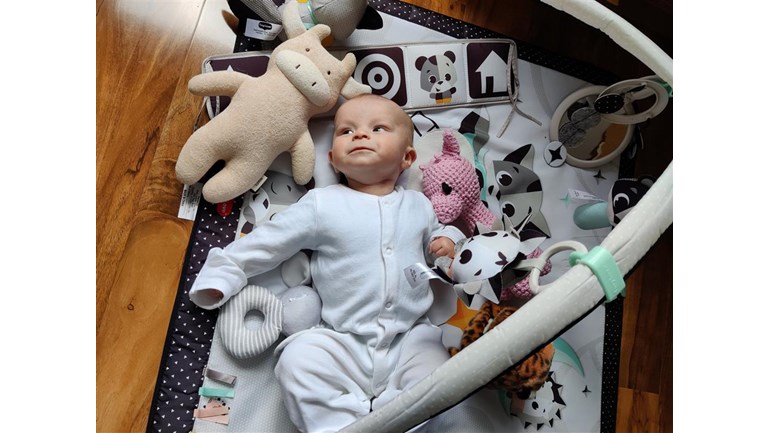 We are the proud parents of our beautiful baby Adam, who was born in October 2021.
Only days after he was born, Adam was diagnosed with Lissencephaly, a rare neurological condition affecting 1 in 100,000 children. Lissencephaly – literally "smooth brain" – results in severe developmental and learning difficulties in the most basic things such as swallowing, sitting, crawling, walking, and talking. It is also expected that Adam will suffer from regular seizures, which could lead to developmental regression. Unfortunately, there is no cure for Lissencephaly, and children with this condition also have a shorter life expectancy. We were originally told by his doctors that children with Lissencephaly rarely live beyond 10 years old, but we have subsequently learned that his life chances may be improved through the right care and therapy.
It will be extremely challenging for Adam to reach the same milestones as other children his age, but we want to do all we can to help him progress and experience joy in his everyday life. Although the NHS provides some therapies, they only cover basic types, and sessions are few and far between. Advanced therapies, such as conductive education and the Anat Baniel Method, as well as additional sessions for physiotherapy, occupational therapy, and speech and language therapy, would benefit Adam immeasurably, but they need to be funded privately. As he is still so young, we hope that these therapies will not only bolster and maximise his existing abilities, but also help him make breakthroughs in new skills, and thus improve his quality of life and extend its duration. Early intervention is crucial, as brain elasticity is optimal in young babies.
As Adam gets older, soon he will also need a lot of specialist adaptive equipment to support him day-to-day, including a stroller/wheelchair, bathing equipment, special seats, a stander, a sleep safe bed, and a sleep activity monitor. While we hope that the NHS will be able to provide equipment when Adam needs it, it is possible that they will not do so if they consider something to be non-essential. The experience of other parents with Lissencephaly children in the UK also shows that it can take months (even years) for suitable equipment to be provided by the NHS, so if there is a long wait, we want to provide Adam with what he needs as soon as possible.
The therapies and specialist adaptive equipment will make an immense difference to Adam's life and help him thrive in his own way. As his parents, we constantly remind ourselves that his time with us is precious, and the phrase 'Live everyday as if it were your last' has never rung truer. We want to do everything we can so he can reach his full potential and continue to be a happy and flourishing child.
The cost of the therapies and equipment can be incredibly high (one therapy session alone can cost over £100). We have been given an initial budget from the charity CPotential of £490 per month to provide therapies for Adam. These therapies are intended to help him with his overall physical skills such as sitting tolerance and early communication skills, and to teach him to accept toys in his hand and to interact with a variety of toys in play that will support his learning.
If you are in a position to contribute, any donation, big or small, will be very much appreciated. Even if you can't donate, please help us by sharing this page or fundraising for Adam.

Thank you very much from the bottom of our hearts,
Adam's Mum and Dad
7.5% of all donations to Tree of Hope in relation to this appeal will be allocated to the general charitable purposes of Tree of Hope to cover our core operating costs.
If we raise insufficient funds, or surplus funds, then the funds will be used, if appropriate, to fund support for our child's needs in accordance with Tree of Hope's charitable objects. If in those circumstances we are unable to use all or part of the funds for the benefit of our child in accordance with Tree of Hope's charitable objects, then any funds that cannot be used will be transferred to be used for the general charitable purposes of Tree of Hope.


Donating through JustGiving is simple, fast and totally secure. Your details are safe with JustGiving - they'll never sell them on or send unwanted emails. Once you donate, they'll send your money directly to the charity. So it's the most efficient way to donate - saving time and cutting costs for the charity.