AE fundraising page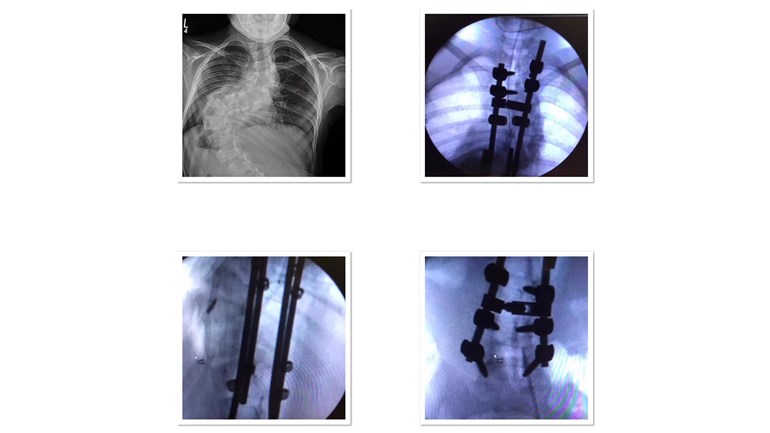 Fundraising page for a specialised car seat for A. 
A is an eight-year-old little girl who was diagnosed with Neurofibromatosis type one when she was two years old. When she was five years old It was discovered that she had a curve in her spine (severe onset Scoliosis, which can happen with NF1). She was put in a hard plastic brace for a while but this did not contain the curve. 
A started to feel pain and could not get comfortable, she had to give up ballet, which she wanted to do more than anything, it was her dream to be a famous ballet dancer (she still might be one day!). Her brace was no match for the force of her spine and she was due to have surgery in 2019. This was cancelled at the last minute and then her surgeon left the hospital. 
She had to be re-introduced to a new team however this team forgot to put her on the waiting list for an operation and she got forgotten about. We waited and waited and I thought "they know what they're doing, they will call her in when it's time" but they didn't call, eventually I called them to ask when her operation would be and she was then put back onto a waiting list. 
All this time things were getting worse, she didn't learn to ride a bike like other kids were. I promised her that after her operation things would be different. So she had a balance bike and tried her best. She had to give up her swimming lessons and again I told her, "after your operation things will be different".
Then the date came and she was due to have corrective surgery in February 2020. After pre-op review and at the last minute this surgery was cancelled. The surgeons realised that her curves were now at 82 and 90° respectively therefore they could not successfully undertake the operation. They decided on a different course, to correct the curve first was the only option, so instead she was due to have halo traction fitted for three months. This meant a three month stay in hospital, which was due in March 2020 with an operation at the end. The operation was to insert magic rods, which would grow as she grows and hold her straightened  spine for as long as possible. There was the possibility of other operations and we were told this is going to be a long relationship between A and the surgeon/hospital. I cannot possibly convey how this feels as a parent to be totally powerless to make things better. This was a child who would get a tattoo and throw a fit within 5 minutes to take it off. She hated having anything restricting her or on her, I couldn't quite see how she was going to be ok with a metal ring attached to her head for 3 months. I tried to prepare her as best i could, however this was also not to be and was also cancelled.
Due to COVID-19 and the direction of her spine she was considered to be a high risk. There was no way she could have spent 3 months in hospital in the middle of a pandemic and also with such a high risk to her, so we waited. They needed to wait until the hospitals were less overrun, the surgeons tried to put it off but in the end it couldn't be held off any more 
The surgeon kept a strict eye on her and by July 2020 they couldn't wait any longer; they had to operate in September 2020.
 They did the best they could in a bad situation, they had to build a metal rod system around her deformed spine in the hope that it wouldn't get any worse. 
This has been extremely hard watching her wake up in pain and that feeling of dread that every parent must feel that I let them do this to her. She had to learn to walk around and stand up again and how to manoeuvre with four long rods inserted into a tiny body and two big clamps. She has one of the clamps at the base of her spine and one at the top. 
Since the operation she has been unable to sit properly. I expected that to change in time but the surgeon is now doubtful that this will get any better.
She hasn't been able to return to swimming or ballet, she cannot sit at the table properly for dinner, she can't sit properly in school and she cannot sit in her car seat. 
At school she uses a computer chair and is soon to be assessed for specialised seating in school, this is now only just happening because she has been away from school shielding since March 2020, with a 2 week stint back before Christmas and then off again only to return after the Easter break.
If we go out anywhere she has a wheelchair, she tries to be like the other kids but inevitably she always ends up back in her wheelchair after a short time. 
She is not able to sit in a regular car seat and has to lay down on the back seat with makeshift pillows around her, a pregnancy pillow and a seat belt. This is not safe and it is not practical. I didn't expect it to last this long. I thought after her operation she would be okay but because they weren't able to correct before they put the rods in everything is not okay and now she has the added difficulties of the metalwork. This is the whole reason that I have ended up here. We went to the In Car Safety Centre and had an assessment of her needs and recommendations for her condition.
The seat that they had was everything she could ever want. It had comfort and padding, it had extra pads that could be taken off and things that could be switched and added according to her needs at any given time. This seat could accommodate her through all her future operations and would last until the age of 12. It also had a swivel base which would have been a major help for the times when she couldn't get straight into the car after her operation, and will help in the future for other operations that she will have to undergo.  The metal work she has now is starting to slide and there is a very high possibility that she will have to have another operation before the end of this year. A was also braced after her operation for 6 weeks, but due to her rods now starting to move she is 7 months post op and is still wearing a plaster jacket/brace 24 hours a day.
The problem I have is that the seat is a whopping £2750. I am a single parent with little to no financial support. I have been unable to go back to work due to the uncertainty of A's operations and needs. 
This seat is just out of my financial capacity due to the urgency of her needing this. 
The following link is to the car seat website, the car seat is called the carrot 3
https://incarsafetycentre.co.uk/
This is not the final outcome for A, hopefully if subsequent surgeries can manage to hold her spine for long enough she will have the chance to grow to an acceptable size. Once there she can have a final surgery to fuse her spine permanently. This will mean she wont grow any taller, which is why we have to wait as long as possible, this is also why there may be several surgeries. Having this seat would mean she would be safe in the car, she would be a lot more comfortable during journeys and after surgeries.  We would be able to leave the house without the dread of knowing that our current alternative is not safe. 
7.5% of all donations to Tree of Hope in relation to this appeal will be allocated to the general charitable purposes of Tree of Hope to cover our core operating costs.
 If we raise insufficient funds, or surplus funds, then the funds will be used, if appropriate, to fund support for our child's needs in accordance with Tree of Hope's charitable objects.  If in those circumstances we are unable to use all or part of the funds for the benefit of our child in accordance with Tree of Hope's charitable objectives, then any funds that cannot be used will be transferred to be used for the general charitable purposes of Tree of Hope.
Many Thanks for taking the time to read this page.
Donating through JustGiving is simple, fast and totally secure. Your details are safe with JustGiving - they'll never sell them on or send unwanted emails. Once you donate, they'll send your money directly to the charity. So it's the most efficient way to donate - saving time and cutting costs for the charity.