About a girl called Jasmine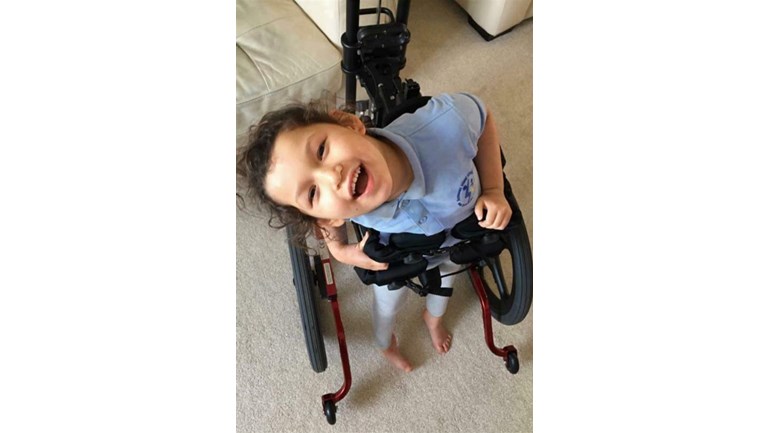 Thanks for taking the time to visit my JustGiving page.
Jasmine was born a healthy happy baby and was reaching all her mile stones. 
At the age of 4 months we were getting ready to go out for a walk, suddenly she began to turn blue in the face and her body started to jerk. 
Frantically we dialed 999. Minutes seemed like forever, we felt helpless and feared the worst as we watched her little body convulse.
At Great Ormond street Jasmine was given many drugs, some with horrific side effects that could have caused permanent eye damage but the seizures outweighed the risks. We had no choice but to pump her with these awful medications. 
Unfortunately we weren't unable to gain control and within a few months the damage started to show. She regressed and lost all of her skills. 
Jasmine went onto develop different types of seizures. Her over all condition remains undiagnosed. To date she has had over 350 tests such as lumber punchers, muscle and skin biopsies, EEG'S, MRI, CT scans and genetic screening. 
Her condition is so rare we cannot find what it is, all we know is that it is life limiting. 
This year Jasmines health has deteriorated, she developed a sternal tumor and we was told to prepare ourselves as it was possible it could have been cancer, thankfully it was benign. However since developing the tumor Jasmine no longer wants to eat. She has now completely lost the ability to eat. Her swallow is unsafe meaning anything given by mouth can go directly into her lungs. Even having too much saliva can cause her to aspirate and end up in hospital. 
She is now fed directly into her stomach via a device. She receives all fluid, feed and medication this way to keep her safe.
Jasmine is pharmacoresistant which means drugs do not work. She can have anything upto 250 seizures a week. 
Some can last upto 40 minutes, these are life threatening. These are the ones we fear, so much that we now have to sleep next to Jasmine as they often happen during sleep. 
We don't know what the future holds for Jasmine so every day is precious.

We are fundraising to give Jasmine the equipment she requires to help her on her feet. A hydrotherapy pool to relieve her body from aches and pains. The cost of private physio. 
https://www.facebook.com/aboutagirlcalledjasmine/

7.5% of all donations to Tree of Hope in relation to this appeal will be allocated to the general charitable purposes of Tree of Hope to cover our core operating costs