Operation SuperBEN!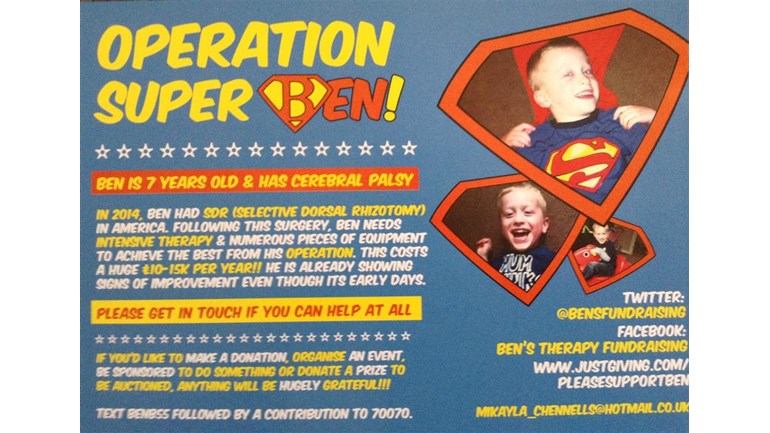 I'm fundraising for my son, Ben. He is 8 years old and due to complications during my pregnancy Ben has cerebral palsy.  This condition causes tightness and spasticity in both arms and legs. Sitting unaided is difficult, commando crawling is done with maximum help & walking is something Ben would just love to be able to do unaided but can't.  He needs physio daily, to be put in equipment such as wheelchairs & standing frames to avoid him forming deformities as he's growing & needs help with feeding, drinking & all other daily tasks we all take for granted.
In October 2014 we took Ben to St Louis, Missouri, America & for the life-changing operation. SDR (Selective Dorsal Rhizotomy) removed the spasticity in Ben's legs, therefore removing all the pain & enabling Ben to use his "normal" muscles. We are fundraising for any physiotherapy & equipment that Ben may need post op. We are very grateful to have been able to take Ben for this life changing operation but the essential post op therapy costs £15k a year!!
We're now 2 years post op & we're fundraising for 4 years post op therapy. 
We are incredibly lucky to have raised a massive £60k target to be able to take ben & since the surgery he's progressed in many areas!! But post op Ben needs essential intense physiotherapy. The £60k target covered the surgery & 1 year. Ben's post op therapy costs on average £10-£15k a year!!! Every penny raised would go towards giving Ben the opportunity to get the most out of this operation!
Ben has had intensive physiotherapy courses at a centre in Oxford in the past. He has therapy 3 hours a day, for 8 days, with highly trained therapists using equipment they don't have any where else in England. We aim to take Ben there 3 times a year but at £1,320 a session it means we need to fundraise to continue to take him. We're booked in 3 sessions in 2017. Ben's also started seeing a personal trainer to increase his strength. He's improved massively from this & really enjoys it! This is 2 hours a week costing £50 per hour. He also has weekly sessions with a private therapist at school for £50 per hour.
Without ongoing treatment like this Ben will fall behind. But again, this therapy doesn't come cheap.
Since starting this extra work with Ben he has rocketed with improvement. His strength has improved and he is more stable and aware.
So, please, please support Tree of Hope to help Ben have the treatment he so badly needs. 
Ben is such a determined, fun and happy boy but his physical restrictions are extremely frustrating for him. His mind is so willing but his body just won't let him do what he wants to. We would like to do everything we can to help him overcome these challenges and live his life as full and as pain free as possible!
We are raising money for Tree of Hope to help fund this ongoing treatment and any donations would be greatly appreciated!

Would be willing to help us in our journey to change Ben's life? By donating safely on this website, being sponsored to do something, organise an event-pub event, cake sale, party, football match, golf day, etc, donating a service or prize to be auctioned off or used as a prize at one of our events...any help will be hugely appreciated!!!!
Please please please keep Ben in mind-you'd be changing his life!
For more information on Ben please visit his facebook page:  Ben's Therapy Fundraising" or by clicking on https://www.facebook.com/pages/Bens-Therapy-Fundraising/200857373319514?ref=ts&fref=ts
Thank you for reading
Thank you
 XxxX
Thanks for taking the time to visit my JustGiving page.
Donating through JustGiving is simple, fast and totally secure. Your details are safe with JustGiving – they'll never sell them on or send unwanted emails. Once you donate, they'll send your money directly to the charity. So it's the most efficient way to donate – saving time and cutting costs for the charity.
So please dig deep and donate now.