Olivia Lugani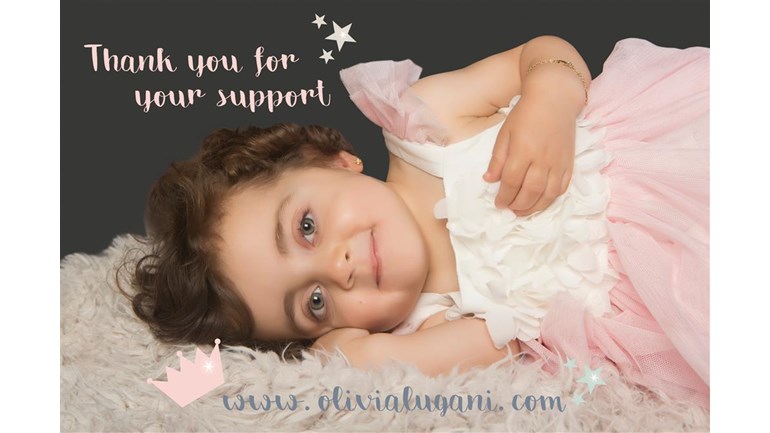 Tree of Hope is helping to raise funds for Olivia's £19,600 electric wheelchair and £40,000 of medical equipment, physical therapies, information technology equipment, and home adaptations, which will offer her the best quality of life. We have a long journey ahead and every contribution will make a difference. Your donation will solely benefit Olivia, no one else.
Olivia was clinically diagnosed in 2013 with an extremely rare genetic condition called Goldblatt Syndrome (aka Odontochondrodysplasia), a form of Dwarfism. Doctors around the world have not been able to diagnose her molecularly.  Only 18 other children world-wide have this similar condition.
Olivia is 4yrs old and suffers from muscular and joint pain everyday and cannot walk. In Spring/Summer 2017, she will be undergoing craniocervical neck surgery at Great Ormond Street Hospital in London. Due to her condition, Olivia has neck instability in C1/C2 region, therefore she will need to have her skull fused to the base of her neck to ensure there is not a risk of permanent spinal damage. An electric wheelchair will give her the mobility and independence she craves. We are also going to have to adapt the home with several changes, for example, installing a lift and specially-made shower room facilities for post-operative, long-term care.

Olivia is a delightful girl who lights up the room. She has many friends who love her dearly. She enjoys playing with her princess dolls, making arts and crafts projects, dancing on the sofa, creating science experiments, building lego towers, and riding her tricycle around the house. 

The one thing Olivia would enjoy the most is to have more independence. The disease does not allow Olivia's muscle strength to develop, therefore she cannot walk. She has always relied on her older sister and parents to help with everything. She can use her Kaye walker to take a few steps, but then tires and must lie down. The one piece of equipment that would offer her the most independence is an electric wheelchair called a Koala Mini by Permobil. Unfortunately, the UK- NHS medical system does not have the means to provide adequate funding, as her needs are costly and very unique. Therefore, the burden must fall on parents to pay for expensive, privately-funded medical equipment, treatment, and adaptations. After searching for over 18months, finally, Permobil was willing to build the Koala wheelchair to suit Olivia's unique needs. Thank you Permobil! 
Koala Wheelchair product page:
http://www.permobil.com/Global/United%20Kingdom/Productsheets/KOALA_LEAFLET_UK_lr.pdf

This unique electric wheelchair will give Olivia the opportunity to lead an independent life; without having to rely on others for full-time care. With your financial support, we can make Olivia's dreams a reality. Whatever you can contribute will be gratefully received.
Please follow Olivia on Instagram (@sparkling_tiaras) and Facebook (olivia lugani).
Thank you for your love and support.

The Lugani Family.
Cheques can be sent directly to Tree of Hope for the benefit of OLIVIA LUGANI. We will list your donation as an 'offline donation'. Postal address: Salford House, Salford Terrace, 19-21 Quarry Hill Road, Tonbridge TN9 2RN
Bank Transfers for International Donors:
Tree of Hope is able to accept donations from any country, but if you prefer to send via bank transfer
ACCOUNT NUMBER: 401014 31498045
ACCOUNT HOLDER: Tree Of Hope
ADDRESS: 43a Little Mount Sion, Tunbridge Wells Kent, TN1 1YP
IBAN: GB27MIDL40101431498045
SWIFT/BIC CODE: MIDLGB22
BANK: HSBC Bank plc
BANK ADDRESS: 2 Devonshire Road, Bexhill-on-Sea, East Sussex, TN40 1AT
NB: Donating through JustGiving is simple, fast and totally secure. Your details are safe with JustGiving – they'll never sell them on or send unwanted emails. Once you donate, they'll send your money directly to Olivia