Mikhail's Mission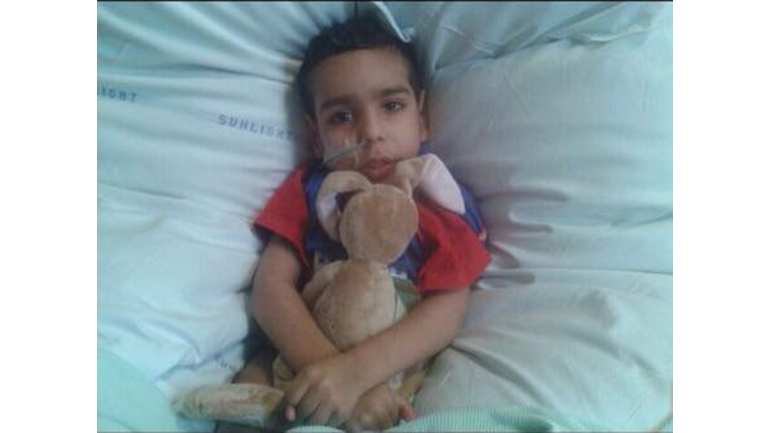 My Story
Hello, my name is Mikhail and I am eight years old. I live in Leicester with my Mum, Dad, younger brother and two sisters. 
I am a surviving identical twin. I lost my twin brother, Zakariyah due to acute twin to twin transfusion. This happened when there was abnormal blood pressure between us both. When Zakariyah passed away, as we shared the blood connections, the unequal flow of blood caused global brain injury. I was fighting to survive, against all odds. Doctors told my parents "Your child will never smile" and that I will live a very poor quality of life and be in a vegetative state. This has been proven wrong, all praises to God. 
I have severe spastic quadriplegia Cerebral Palsy (CP), which is increased muscle tone in all four limbs, global development delay and cortical visual impairment and other complexed needs. 
I need 24 hour care and have difficulties around feeding and drinking. I am a wheelchair user and am unable to sit, roll over, walk, talk and feed myself. I have scoliosis, which is abnormal twisting and curvature of the spine. I need my position to be changed, as I can not move myself.For these reasons and owing to abdominal discomfort, I have abnormal sleep patterns, waking up perhaps three to four times at night.  
My Mission
I do not see my disability as a barrier to enjoy life. I am aware of sounds around me, especially familiar voices. I have cortical vision impairment, It takes a lot of time to tune in and respond to things. I can respond to movements of people around me and smile when I am happy and enjoying activities.  My family, teachers and carers all agree that I can visually track. I am hoping this can improve in time with help and support. I really would like to reach my maximum potential to improve my communication, which will make it easier to express myself and people to understand me. 
I have recently had a hip x-ray showing that my hip is at severe risk of dislocation. In order to prevent this, I must carry out daily necessary exercises and use equipment to maintain correct postures. This is a hard task as my legs tend to cross at times because of my muscles not co-coordinating properly.  
I would benefit greatly from some intense physio sessions to try and bring on my development. There are also many specialist treatments and equipment that would help me to develop further and allow me to enjoy life to the full. I will need to do a lot of therapy to maintain my range of movement. As I grow it could become harder. Hopefully, if I continue to have this treatment it will make my life easier. 
My mum and dad are setting this page up for me, so I can get help with the therapy I really need. They are raising funds for me through the Tree of Hope charity. They would love to provide me with everything that I need, but unfortunately these specialist therapies, treatments and equipment are very costly. They can only do this with the generous help of others. Tree of Hope will collect any money donated and use it to directly pay for any treatments or equipment that I need. 
If I could talk and express myself, I would love to let you know how hard life has been and still is. 
Your help and support will really help me to achieve my maximum potential. 
There will be fundraising events in 2017, to raise funds for equipment and treatment. So far in the pipeline, includes half marathon, pampering events and a charity auction. 
My Motto: 

When the world says "give up" hope whispers, "try it one more time".

Lots of love and prayers, 

Mikhail x