Jake's Journey to Independence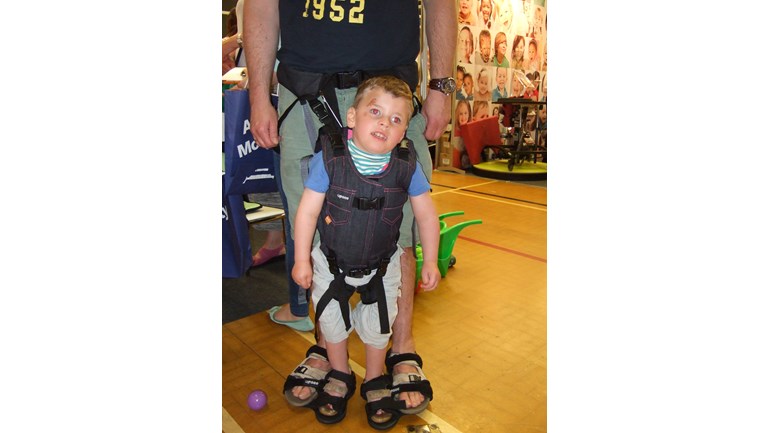 Thanks for taking the time to visit my JustGiving page.
I'm fundraising for my son Jake. He is 5 years old and has severe quadriplegic cerebral palsy (CP), and uncontrolled epileptic seizures caused by meningitis at birth.

My husband, Marcus, has signed up for our next challenge for Jake's Fundraising Journey. He's going to walk the 100Km London2Brighton Challenge on 28 & 29 May for our little man to continue to raise funds for the treatment he needs.
This is going to be an a real endurance walk with sore feet and muscles all over the place, and our friend, Matt Monk, has brilliantly agreed to join Marcus. If anyone else wishes to join them on their short walk to the shops, please get in touch for details - places are limited to 3,000 entrants and the walk is about half full at the moment. Or if you want to get involved in the slightly less physical task of sponsoring us, donations for this challenge can be made on this page. 
For information on the walk, see www.london2brightonchallenge.com/
Jake was already very loved before he was born and we dreamed of the exciting future he would have. 
However, after a healthy pregnancy,
within 24 hours of being born, Jake was fighting for his life in intensive care. He was in an induced coma because of uncontrollable fitting caused by meningitis. We didn't know if our precious boy would survive. If he did, we knew that he would be profoundly disabled. However, Jake is a fighter, and won his battle with meningitis. But we still battle every day with the multiple disabilities the illness left Jake with.
Jake's CP is classed as the most severe you can have and he has no
independent movement at all - he can't walk, stand, crawl, or eat by
himself. As Jake is non-verbal, we have to gauge his reactions by his mood and reading his eyes. Jake even needs help reaching for and holding toys. He needs physiotherapy daily and has specialised equipment including seating, standing frames and a sleeping system to prevent him forming deformities as he's growing. Jake is totally reliant on others for all of his needs, including feeding, drinking, toileting, playing & all the other daily tasks we all take for granted. Jake currently cannot talk but he desperately tries to!
Jake's epilepsy is very complex and unfortunately he has uncontrolled seizures and is often admitted to hospital as an emergency because the seizures don't stop on their own. In the past 12 months we've had to call an emergency ambulance about 20 times - we don't know exactly how many as we've lost count. Jake's seizures have become very difficult to control medically - he's on two anti-convulsive medications but even that has not proved enough to keep his epilepsy under control. 
In February last year, Jake appeared to be increasing tired for no reason. He had an EEG and we found out that Jake had sub-clinical seizures - this basically means he was having almost constant seizures across the day without any apparent clinical symptoms - the only thing which indicated a problem was his apparent tiredness. But this was actually seizure activity.    
As a result, Jake was admitted to hospital for 17 days to try and break the seizure pattern. We were also told it was no longer safe to feed Jake orally – food went to his lungs causing chest infections and more seizures - so we had to have a NG tube fitted through his nose to Jake's stomach to get milk feeds. Jake was a ravenous eater – his favourite dish was Moroccan meatballs! He is still on a NG tube, and looks jealously at us whenever we eat, which is heart breaking. 
Although there has been some improvement in Jake's condition, it has been sporadic at best. Jake has been off school for about 50% of the year - and he attends a special needs school, which he loves. Jake has also gone from being a very happy, inquisitive boy who was very nosy and loved to laugh and shout his vocalisations at friends and family, to a boy who still wants to be happy but is as not engaged in life and his boisterous sister as he used to be. 
Jake has still been having sub-clinical episodes, and we've been trialling additional medication to the two he normally takes - with limited success. The side effects of the medication is that he gets even more tired, and cannot go to school. It is a vicious circle.  
Despite all of this, Jake is a very happy boy and his two year old
sister, Jess, dotes on him and really tries to look after him.  Although sometimes it is also difficult for Jess to come to terms with not being able to play fully with her brother. It is also difficult for us to see our bright and sociable little boy frustrated because he is not able to play and communicate with other children because of his disabilities.
Often we feel very isolated because we cannot take part in day-to-day and family activities that most families take for granted. For example, taking Jake on to the beach in his wheelchair is next to impossible as it just sinks in the sand. We either have to carry him onto the beach without this equipment – which is physically exhausting for us as Jake weighs almost 23kg and cannot hold on to us. Staying over at friends and family is also very difficult because Jake's special mattress is not easily transportable – it is the size of a full mattress – so we have to use another piece of equipment which is not as comfortable for him.
While Jake does have a severe disability and medical complications, Jake isn't just this disability - he's a typical five year old boy. He really enjoys going to school, he loves films like Pixar's Finding Nemo and Cars, he loves The Avengers, and his face lights up when songs like Move Like Jagger and Happy by Pharrell Williams come on the radio. Jake's also an outrageous flirt, who flutters his eyelids and has a wide smile for seemingly everyone he encounters!
Jake's disability can be very difficult for him and us, but we are
determined to have as many good and fun times as possible. We will not let Jake's condition stop him from enjoying life to the full and we are determined that he should participate in as much as other children and families do!  This is where we need your help!
We are fundraising for stem cell (cellular) therapy, equipment, and physiotherapy that could significantly change Jake's quality of life for the better. 
With your help Jake will have a better chance of an independent
future…
Would you be willing to help us in our journey to change Jake's
life? By donating safely on this website, being sponsored to do something, or organising an event (like a cake sale or sporting activity) -you'd be helping to change Jake's life…
Thank you for taking the time to read this and with your help Jake will have the chance of a better future.
Should we exceed the target amount (or if we do not raise enough
funds, or if they cannot be used for any other reason) the funds raised will go to the general funds of Tree of Hope to assist other sick children.
Donating through JustGiving is simple, fast and totally secure. Your details are safe with JustGiving – they'll never sell them on or send unwanted emails. Once you donate, they'll send your money directly to the charity. So it's the most efficient way to donate – saving time
and cutting costs for the charity.