Cooper's Journey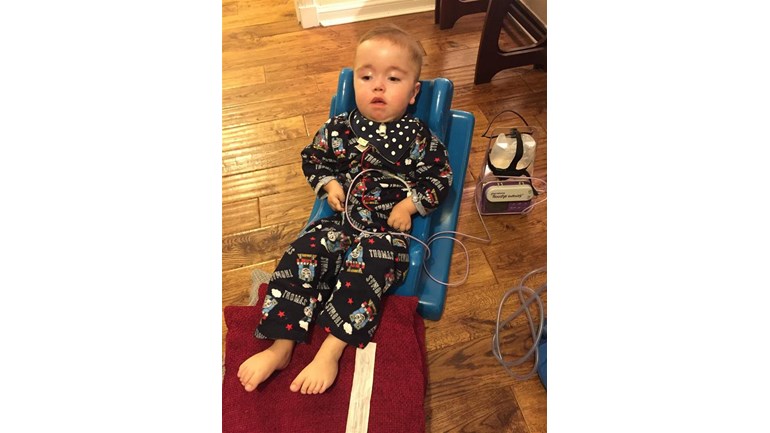 Cooper was born 4 weeks early, and has no diagnosis or explanation of what is making him poorly. He cannot make a sound to tell us anything, yet. His world is a quiet one.
He had a tiny stomach bubble when he was born, and had not been swallowing in the womb. He was born with a narrow airway and a compression at the back of the mouth caused by a small jaw? He is fed milk through a Gastrostomy (button in his tummy) because of this, and breathes through a tracheostomy which he is likely to have for years to come.
He has very poor muscle tone and cannot support his own head or move his legs or arms as a healthy baby of his age might. Nobody knows why yet, but his needs are getting more and more demanding as the weeks pass and he grows.
Simple things like bathtimes are difficult because he cannot sit up. He cannot play sat up and needs to be supported all of the time.
His nervous system is unknown, and there is a query about Cooper having a neuropathy-type problem, but again this is not confirmed. 
At the end of December 2015 we were advised the muscle biopsy Cooper had in August 2015 shows there is a problem with his mitochondria. It's now believed he has a type of mitochondrial disease. This has not been confirmed. The further testing is not funded by the NHS and all down to research projects. This video explains more about the disease the doctors believe Cooper has. 
http://www.thelilyfoundation.org.uk/mitochondrial-disease/

Unfortunately there is no cure and it is highly likely it will be progressive. 
We are raising money for the essentials that Cooper needs. Things like supporting aids and car seats, some  of which cost close to £4000. We don't know if we will get there, but he deserves every little bit of help we can give him.

We have chosen a figure of £30,000 to aim for, and know we will likely not reach it, but we want to aim high.

Right now 2016- Cooper needs:

- Regular physiotherapy from experts who can make a real difference to his future. We don't know if he will ever walk, but this time of his life might be critical to prepare him and stop him from regressing, something he seems to have started - cost - £65/hour

- Specialist play equipment - everything 'high-street' from sit-on toys to swings are not suitable for him. He cannot make use of them because he cannot support himself. Just one smile a day is a good day for Cooper, that's all we want. 

- Access to regular hydrotherapy. Being safe in warm water whilst bonding with mam and dad is the one thing Cooper enjoys in life. It calms him and stops the pain he is so frequently suffering without filling his body with drugs. Unfortunately it is not available to him publicly - cost - £20/hour or

- His own hydrotherapy pool. Access to his own hydro pool at the temperature he needs in the comfort and familiarity of his own home, surrounded by his own equipment, whenever he needs it. Essentially a 'hot tub' but without the bubbles and force of the jets, this would let Cooper relax any time he needed some time out. - cost - about £6000

- An adapted bath. Cooper is growing very well and is getting heavier by the day. He cannot support his self so is a dead weight. Cooper loves a bath and it eases his muscles . Coopers tone can vary from all floppy to floppy with stiff arms and legs that tremor. So a bath every day helps ease this. We are currently applying to adapt the house however the grant will not cover a bath which is about £9000

- A car seat. Its a basic and so readily available on the high street. Sadly none of them support Coopers body properly, meaning time in the car is uncomfortable, and his head flops to the side and his body twists around. Of late we have been told Coopers spine is starting to curve. This we hope is due to his position in seats. The only car seat we have been able to find and that has passed the Phsyios seal of approval is £3500. We are approaching a charity to help us but would like to contribute with some Tree of Hope funds. We have this now thank you

- Adaptations to the house, eventually. (As of 2016 this need is more apparent Cooper may be tube fed but he is growing extremely well) Cooper is getting bigger, but not stronger. Sooner or later this is going to be a problem for his parents to get him the basics of care, like up two flights to stairs to a bath if he is unable to walk, or out to the car without a ramp. We have no idea what he will need, or how much he might get help from the local authority (though we are finding they will pay for less than they will pay for). Its likely he will need a downstairs shower room, bedroom, stairlift or both. Its a daunting thought. This is currently being negotiated.
Cooper is almost 3 and has been awarded mobility to assist getting a wheelchair car. Cooper is unable to sit up himself. He has a fab car seat but it's getting very difficult to place him in this without damaging our backs and twisting his body. We have been looking at very large vans as Cooper needs regular suction and needs to be sat beside someone at all times. The advance payment is between £5000-7000. We are raising money to assist with this payment. We will endeavour to buy a second hand wheelchair car however these can be hard to come by. Cooper's wheelchair needs to be replaced by a larger chair and the only way we can take a large wheelchair is to has a vehicle it can be transported on.

Should we exceed the target amount (or if they cannot be used for any other reason) the funds raised will go to the general funds of Tree of Hope to assist other children.


Thank you to all of the persons who have ran for Cooper to raise funds and everyone who has donated it means a lot to us and Cooper.