Cora-Jane wants to rock her helmet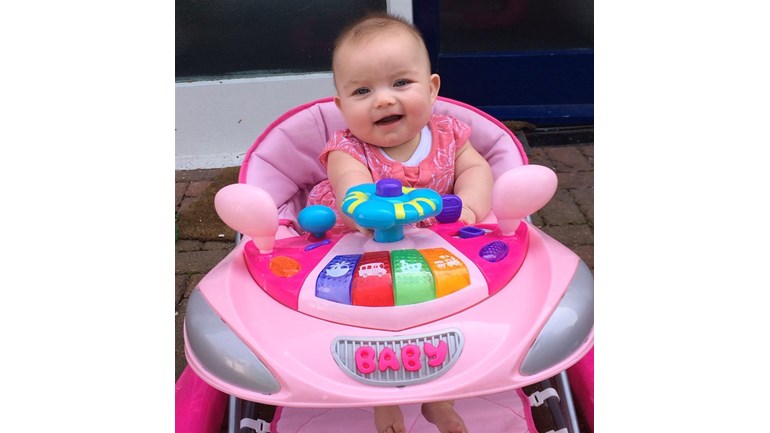 Thanks for taking the time to visit my JustGiving page.
Cora-Jane has been diagnosed recently by The London Orthotic Consultancy as having high moderate plagiocephaly, also known as flat head syndrome. Cora-Jane is 1mm away from being classified as a severe case. She also has misaligned ears and a prominent forehead due to plagiocephaly.
The NHS do not currently treat this condition, therefore we have had to look into private treatment for Cora-Jane, which will cost £1950
We have tried all ways to improve Cora-Janes condition without having to go into helmet therapy, such as more tummy time, repositioning and a special pillow, but nothing has made a difference, which is why we are now hoping to get her a LOCband helmet (which she will ROCK!)

Today, we have just taken delivery of a sleepcurve mattress, which we hope will at least stop the condition becoming severe until we can afford treatment.

She will have to wear the helmet for 23 hours a day, for about 6 months. There is only a certain amount of time we can have this treatment for her before her skull bones begin to fuse and the deformity is then permanent.
Cora-Jane also has strabismus, a condition where her eyes are not aligned with one another (we are unsure at this time if this is definitely caused by plagiocephaly) but it may mean she will need glasses on the future. If the plagiocephaly is left untreated, she may be unable to wear glasses, due to her misaligned ears.
We understand this is a lot to ask of our friends and family, but if you could spare just a few pennies to help towards Cora-Janes treatment, we would forever be in your debt.
If we exceed the target amount or if we do not raise enough, or if the funds cannot be used for any other reason, they will go to Tree of Hope to help other sick children.