Cavan's First Steps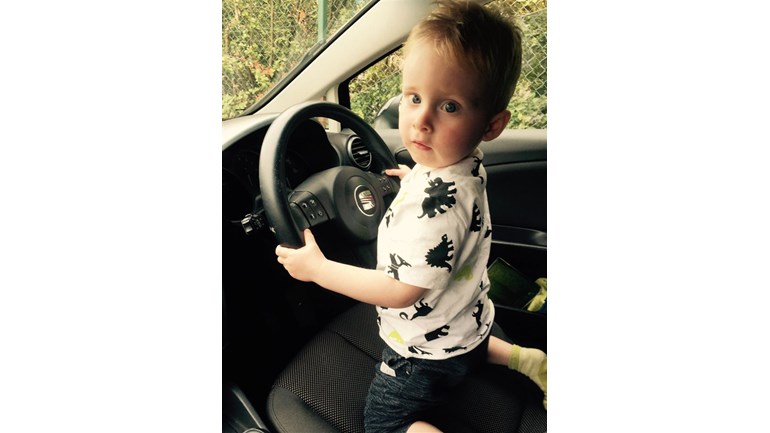 We are hoping to raise £80,000 to cover the cost of pioneering surgery in America that will help our son, Cavan, walk. The cost will cover the operation, post operative equipment and therapy and intensive therapy when we return to Belfast. It will also cover the costs involved with receiving specialist therapy in England.
 When we hit the £60,000 mark, we will be able to travel and Cavan can undergo the surgery that will change his life forever. We hope you can be part of this journey. 
Here's a bit about our little boy. His name is Cavan. He is our beautiful two year old from Belfast living with Cerebral Palsy, a specific kind called Spastic Diplegia that mainly affects his legs due to tight muscle tone and spasticity which makes it difficult for him to walk.  
Cavan can't walk and will never enjoy the physical freedom that other children of his age do. To stand hurts and he suffers from tightness that is only getting worse as he grows. We are a long way off from getting Cavan to walk, even with assistance despite the hours of therapy we and his two physiotherapists put in.
Our wee man was born on May 18th, 2013 and was and still is our purpose for living. He arrived six weeks early, out of the blue with little warning. We were overwhelmed with love like all parents are and from that Saturday night, our lives changed for the better.
It was just before his first birthday when we knew that Cavan was different. His gross motor development was behind in relation to other children his age. He struggled to sit upright unsupported when he was blowing out his first birthday candle, he couldn't crawl and standing or walking seemed impossible. 
At around 18 months he was given an MRI scan which showed that Cavan had damage on his brain known as Periventricular Leukomalacia (PVL) which is in keeping with Cerebral Palsy. We were devastated. We, like all parents, had big dreams for our son. We'd a school in mind and sports we wanted him to participate in - all the things that give a child a full healthy life but in that moment, we learned that none of that really mattered as we were dealing with a future of uncertainty. 
A close friend described receiving the news that your child has a disability as a trip. She told us: 'It's like booking a holiday to Italy and when you arrive at the airport, you find out you're in Holland. It's not what you had planned. It's not what you wanted but if you spend your life mourning that trip to Italy, you'll never enjoy the beauty that is Holland." And she was right. We had a whole new way of life to learn and we still are learning. And Cavan is beautiful. He is the best company; funny, tough, cheeky and fiercely determined and he is a chatty little man. He adores Peppa Pig and Ben and Holly, marshmallows, playing dinosaurs and spending as much time as he can with his cousin Ella. Cars, trucks, tractors and anything with an engine fascinates him. He would listen to Taylor Swift on repeat if we allowed. 
He goes to daycare and tries to participate as much as possible in activities with his friends but there will always be things that he'll never enjoy to the full like his them. A trip to the park is a challenge and frustration for him. He can't walk up the steps to a slide or even position himself to slide. He can't get around the park without being carried. A planned day needs to involve a space that we can freely let him crawl in. When it's damp, outside activities are a no go and he gets upset at spending too much time in his buggy. This is a way of life we thought was permanent until we researched SDR, Selective Dorsal Rhizotomy - a spinal surgery that will permanently release Cavan from pain and in the words of the St Louis surgeon 'allow him to walk unaided in all environments' by permanently severing the nerves that have caused his tightness. 
Not every child with Cerebral Palsy is accepted for this operation so we were ecstatic to learn that Dr Parks, the pioneer of this surgery, believed Cavan was an excellent candidate. 
What parent would bypass that opportunity to give their child the independence that so many of us are already gifted with? We simply can't which is why we have set up this page - to raise the funds necessary for SDR in St Louis Children's Hospital, Missouri which has completed no less than 3,000 operations and changed the lives of both children and adults from all around the world.
We are hoping to raise £80,000 to cover the cost of the surgery, the necessary post operative equipment and the following intensive physiotherapy and additional rehab that will contribute to making his life easier and as typical as possible. All we want is for Cavan to get on his feet and begin living.
When we reach the £60,000 mark, we will be able to book the surgery.
We know this journey will be difficult. We are bracing ourselves for an emotional one, but know one thing, every penny donated to this cause will be gratefully received. No matter how much, we know that big or small it will contribute to changing the life of our gorgeous little man. We will make you part of this journey and if we can ever help you in any way in return for your generosity, should you one day need the financial support of others to reach a life-changing goal, you can call on us. 
Thank you for reading our story. 
Best wishes
Emma and Diarmuid O'Neill