Step up for Alex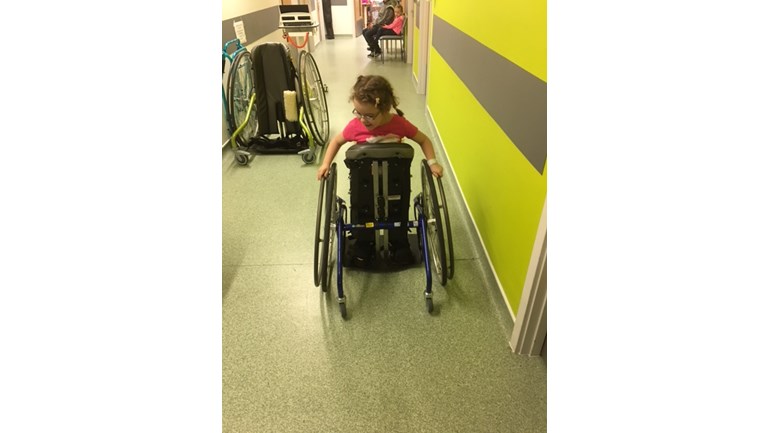 A message from Alex's Mummy and Daddy:

Alex's identical twin sister, Izzy, wants nothing more than to have her sister to be able to enjoy all that she does – Izzy's dream is that Alex can run, play and join in all she does.

Alex is loving, caring and so determined – she doesn't think of herself as disabled – she really thinks she can do what Izzy can but as adults you know that's not true so with revolutionary life changing surgery we will be giving Alex the chance to be like Izzy and give her a different future.

To do this we need your help – any donation is greatly received and thank you for your time in reading Alex's story.

Alex's story:

Hello my name is Alex and I have Cerebral Palsy. It affects my whole body but I have the chance of life changing surgery called Selective Dorsal Rhizotomy (SDR) which will transform my walking for ever and most importantly, I'll be able to chase after my identical twin sister, Izzy.

Izzy and I have always been close from the start as we're a rare form of identical twins called Monoamniotic-Monochorionic. MoMo is when identical twins share the same amniotic sac and placenta so as we grew our cords tangled which caused the stroke resulting in the Cerebral Palsy.

From day one I was missing milestones and on my first Birthday I started to wear glasses to help but then at 18 months I was diagnosed with Cerebral Palsy.

I am now 4¾ years old and started school with Izzy in September but I rely on a fabulous team of specialists to look after me from Teaching Assistants, Physiotherapist, Occupational Therapist and paediatric consultants.

My biggest problem is my legs – my muscles are in spasm the whole time which means they are incredibly stiff and difficult to move freely. I rely on vital equipment to help me walk – my splints go on first thing in the morning and come off last thing at night – they are really uncomfortable but without these on, I can't walk on my tripod sticks or Kaye Walker, and when I'm really tired and for long distances, I have my wheelchair.

The money raised will help with:

•    SDR Surgery – This surgery will free up my legs so I will be able to walk normally. The surgeons work out which nerves are sending the bad messages from my brain and sever them only leaving the ones sending the right messages.

•    Corrective surgery and casting – This will be to sort out my deformed ankles and feet post surgery.

•    Post surgery physiotherapy

•    Equipment

Any donation is greatly appreciated by not only me, but by my Mummy, Daddy, twin sister and my family. This surgery will give me a chance of a different life.

Thank you.

Alex
xx

Donating through JustGiving is simple, fast and totally secure. Your details are safe with JustGiving - they'll never sell them on or send unwanted emails. Once you donate, they'll send your money directly to the charity. So it's the most efficient way to donate - saving time and cutting costs for the charity.
Fundraising with Tree of Hope:
7.5% of all donations to Tree of Hope in relation to this appeal will be allocated to the general charitable purposes of Tree of Hope to cover our core operating costs.

If we raise insufficient funds, or surplus funds, then the funds will be used, if appropriate, to fund support for our child's needs in accordance with Tree of Hope's charitable objects. If in those circumstances we are unable to use all or part of the funds for the benefit of our child in accordance with Tree of Hope's charitable objects, then any funds that cannot be used will be transferred to be used for the general charitable purposes of Tree of Hope.

If you have any questions at all please do not hesitate to call the family support team on 01892 535525.