Leon's First Steps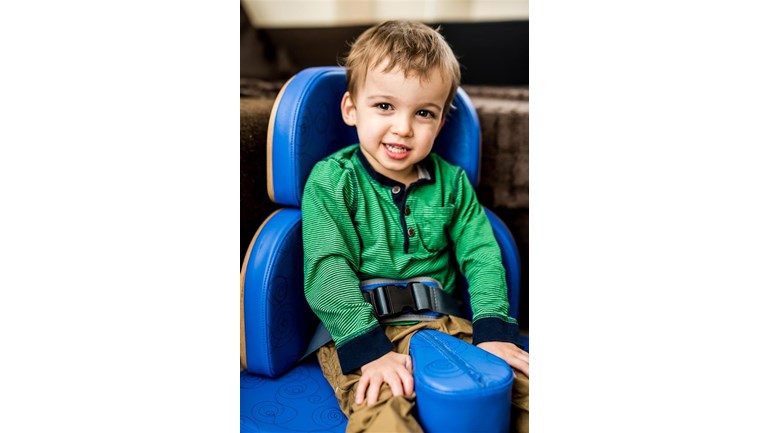 "My big brother has Cerebral Palsy and cannot walk."
"Leon was born 10 and a half weeks early (at 29 weeks and 3 days) in County Hospital, Stafford in 2013 and he weighed 2lb 8oz which is very small! He suffered a brain haemorrhage, had 2 holes in his heart and chronic lung disease. He was diagnosed with Quadriplegic Cerebral Palsy and Global Developmental Delay at 15 months old as an MRI scan showed a white matter brain injury called Periventricular Leukomalacia common in premature births (aren't I smart for a baby?!).
Please help my big brother Leon to take his First Steps."
Aniela x
3 months old
------------
We are raising money for equipment and physiotherapy following a surgery called SDR (Selective Dorsal Rhizotomy). The brain injury Leon sustained causes stiffness (spasticity) in his legs and is interfering with his ability to move and learn how to walk. Spasticity also causes pain and the shortening of muscles may cause deformities. Permanently cutting some of these fibres reduces the stiffness. This is Leon's best chance at being able to walk, free of pain, either with equipment or unaided.
Please help us to make that possible?
Kasia and Charlie
Parents of Leon (3) and Aniela (3 months) 
Follow Leon's Journey here:
http://www.facebook.com/LeonsJourney/
----------------------------
**UPDATE NOVEMBER 2016**
We've had a few set backs this year along with the difficulty with speech. The UK surgeon we had an assessment with does not think Leon is suitable for SDR at this time (too young and they want him to work on getting his strength up) and would like us to come back in a few years. We still believe that the optimum age for Leon to have surgery will be 5 years old so this is still our focus. After the age of 5 the pattern of walking becomes fixed in the brain and so it will be harder for him to re-train his legs without the spasticity as they would have learned how to walk using it.

We will be applying to Dr Park at St Louis Children's Hospital in America. He is the world leader on SDR after pioneering the way it is now performed around the world. He has operated on lots of children like Leon and with amazing results so if they say he is ready then we know Leon will be in great hands in America.

Following discussions with therapists and trainers we have had to increase our target to cover the costs of having the operation in America and for extra speech and language therapy as Leon is still struggling to communicate with us. We hope you can see why this is necessary and continue to support our efforts.

Best wishes,

Leon's family x

Thanks for taking the time to visit my JustGiving page. If you would like to help us with our fundraising, you can contact us through our Facebook page called Leon's Journey or via email Kasia.thompson@gmail.com

Tree of Hope reserves to use these funds for any purpose stated in the parents charter, including but not limited to, medical treatment, surgery and therapies and related travel expenses, medical and exercise equipment, childcare, home adaptations and the cost of vehicles designed for the disabled.

Donating through JustGiving is simple, fast and totally secure. Your details are safe with JustGiving - they'll never sell them on or send unwanted emails. Once you donate, they'll send your money directly to the charity. So it's the most efficient way to donate - saving time and cutting costs for the charity.